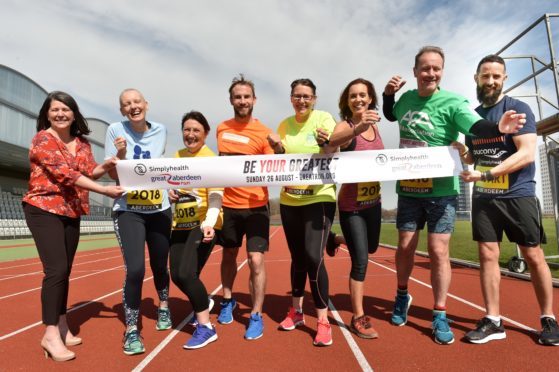 Runners from across the country are being encouraged to pull their trainers on and sign up for this summer's Great Aberdeen Run.
Following the success of last year when more than 7,000 people pounded the pavements of the Granite City, the race is returning to Aberdeen.
Entries for the events on Sunday August 26 have now opened, with options including a family mile down Union Street, a 10K and a half marathon.
To mark the launch, six inspiring participants were put through their paces by a personal trainer at Aberdeen Sports Village yesterday.
Jacqui Longrigg had her last dose of radiotherapy for breast cancer just hours before taking part in the session and is now working towards being ready to tackle the 10K.
Finding out about stroke risk was catalyst to Ian's running ambition
The 46-year-old from Elgin has been using the services of charity CLAN while going through treatment and will use her race entry to raise money for the organisation.
She said: "I was diagnosed with cancer last May so the year has been pretty hard on me with the chemotherapy and radiotherapy.
"Hopefully when my skin heals I can start training again and this has given me something positive to focus on."
Great Aberdeen Run: Gail gets running again after eight year break
Businesses across the city reported a large boost in footfall during last year's event, with some experiencing a sales increase of as much as 30%.
Adrian Watson, chief executive of Aberdeen Inspired, said: "Their feedback was overwhelmingly positive.
"We're keen to see an even larger field take part this year and for people to take the opportunity to come from near and far and discover, or rediscover, our great city centre."
Simplyhealth, which backed the inaugural run last year, is again sponsoring the event.
The firm's CEO, Romana Abdin, said: "We have a passion and purpose that's all about helping people make the most of life through better everyday health.
"It's really inspiring to hear Jacqui, Ian, and Gail's stories and we look forward to seeing them and the many others at the Simplyhealth Great Aberdeen Run this year."
City council culture spokeswoman, Marie Boulton, said there was a good running culture in the city.
She said: "These are the kinds of events we want to see blossom.
"Sport is really important in the city and I think this is a natural progression. Each year we will see it get bigger and better."
Chris Foy, chief executive of VisitAberdeenshire, said: "Hosting world class sports events in the city is fantastic for the region as they bring local people together and attract visitors from out with the area.
"Crucially, it's the people that make the Great Aberdeen Run something special."
Trainer to stars puts on session
Aberdeen-born celebrity personal trainer Stuart Amory has lent his support to the race.
Mr Amory has worked with stars such as newsreader Sir Trevor McDonald and actor Emily Blunt.
He helped launch this year's events yesterday by taking six participants through their paces in a training session at Aberdeen Sports Village.
"If I can make these guys enjoy running more, and run more events, then I've done my job," Mr Amory said.
"It makes me so excited that this is happening.
"The run will be great and I encourage everyone to take part."