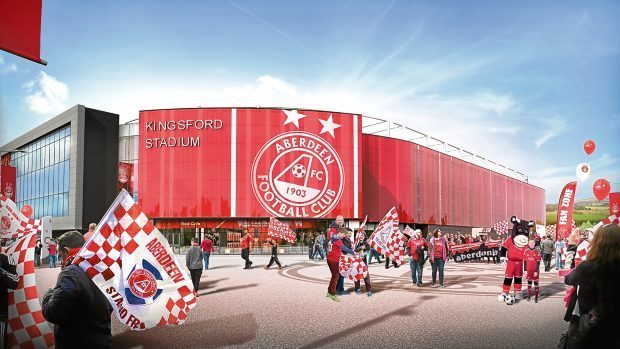 Aberdeen FC estimates that the construction of its new stadium will create 150 local jobs during its first phase.
The Dons have been celebrating this week after council planning officers signed off on papers cementing the conditions attached to the £50million scheme between Westhill and Kingswells.
And project leaders have now outlined how an initial programme of work will benefit the local economy.
That first stage will cost more than £10million and involves the creation of a training pavilion, groundsman's accommodation, three professional training pitches, two 3G pitches and full size and half size grass pitches.
Raymond Edgar, project director, said: "Some of the significant economic benefits promised will be realised immediately through these contracts, which will be awarded to local companies wherever possible.
"The north-east boasts a strong construction supply chain with the necessary skills, expertise and track record for these works and it is our intention to source local first.
"These contract awards signal the beginning of a new era.
"After 18 years in the planning, we are finally able to start work on our vision for the club, the community and the wider region."
Aberdeen FC will put an initial series of contracts out to tender next month, with efforts expected to get under way in June.
The first stage of construction will also include earthworks, the creation of roads and sewers and electrical, plumbing, heating and ventilation work.
However, those plans could still be thrown into disarray as a protest group rallies to stage a legal battle preventing the work from taking place.
The No Kingsford Stadium collective has vowed to launch a judicial review at the Court of Session – which could hold up the project for months, or block any development at Kingsford.
The group believes that the new ground will heap misery on the community, with excessive congestion and noise on match days, and have amassed a £50,000 kitty in preparation for the legal battle.
But Mr Edgar yesterday said that the club would now reach out to nearby residents to set up a liaison group aimed at shaping the plans and smoothing over any tensions.
It is anticipated that the group will comprise representatives from Westhill and Elrick Community Council, Kingswells Community Council and Westhill Sports Hub.