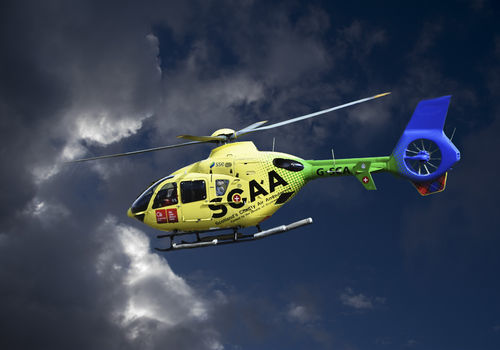 A charity that works to save lives across Scotland has unveiled plans to raise £6 million for a second helicopter air ambulance.
Scotland's Charity Air Ambulance (SCAA) has one helicopter located near Perth, which is scrambled in response to emergencies from the Borders to Orkney.
Yesterday, the charity announced plans to raise £6m to purchase another helicopter, which would cover crew costs and pay for an accompanying road vehicle.
And calls have already been made to base the aircraft in the north-east.
The Scottish Ambulance Service has two helicopters based in Inverness and Glasgow, and now politicans from all sides of the divide are keen to bring a helicopter to Aberdeen.
Scottish Conservative MP for Aberdeen South, Ross Thomson, said the move would chime perfectly with plans to locate a new trauma centre in the city.
The centre, due to open this autumn, will provide care for patients who have suffered serious injuries in accidents such as car crashes or falls.
Mr Thomson said: "Scotland's Charity Air Ambulance plays a vital role in emergency response and has helped to save lives in incidents across the country.
"Aberdeen would be well placed to allow for a quick response to accidents in Angus, Aberdeenshire and Moray – as well as the Inverness and Highland area."
Liberal Democrat MSP for Caithness, Sutherland and Easter Ross, Jamie Stone, suggested that the air ambulance could help redress "colossal challenges" in providing emergency response across the Highlands.
He said: "The distances involved – and winter weather – present a colossal challenge to ambulance services in the Highlands.
"The fear is that a medical emergency occurs in the north Highlands at the same time as present air ambulances have been sent to an incident in the south or west Highlands.
"A new air ambulance based in Aberdeen would help address this potential danger."
Moray MSP Richard Lochhead suggested the helicopter could plug gaps in local ambulance cover.
The SNP politician added: "For some time now, I've been making the case for extra resources from the Scottish Ambulance Service for Moray, to help our overstretched staff and to ensure the best service for patients.
"For that reason I'd certainly be keen to see the new charity air ambulance being based in the north."
SCAA flew its distinctive yellow and green helicopter into Holyrood yesterday to make the groundbreaking announcement.
Group chairman John Bullough said: "A second helicopter will allow SCAA to fly twice as many time-critical emergency missions, save twice as many lives and fly help and hope to twice as many communities.
"Scotland's 30,000 sq miles of mainland plus our 100 inhabited islands are home to some of Europe's most remote communities.
"Our service turns an uncomfortable road transfer that could take hours into a smooth flight that takes just minutes. For high acuity and blunt trauma that's not just nice to have, it can simply be the difference between life and death."
Discussions will now take place between the charity, the NHS and the Scottish Ambulance Service on where to locate the new machine should the fundraising campaign prove successful.
The distribution of the nation's trauma centres is thought to be a factor which will be considered in that decision.
Health Secretary Shona Robison said: "Scotland's Charity Air Ambulance carries out great work across Scotland, helping to save and improve lives every day.
"A second SCAA helicopter will make a huge difference, particularly in the more rural and remote areas of Scotland."
Since the air ambulance was launched in 2013, the charity has responded to more than 1,700 call-outs.
Mr Bullough, a founding trustee of SCAA, said their work had earned them a "loyal and passionate following" which he hopes will back the campaign. The charity will also be approaching companies and grant funders.
The £6million would cover the cost of launching the helicopter, and sustaining it for the first three years.
Chief executive David Craig added: "As a charity that is only five years old, SCAA successfully delivers a truly national service, and a second aircraft will double our operational capacity – saving and improving more lives."
No time frame has been set for the launch of the second aircraft, but it will become operational as soon as the fundraising target has been secured.
1,700 callouts in five years
Scotland's Charity Air Ambulance was launched in May 2013, after a group of Perthshire businessmen recognised a gap in the country's emergency provision and banded together to make a difference.
Paramedics – who have years of experience with road ambulances – are on call for 12 hours a day, and the ambulance can reach most of Aberdeenshire in 30 minutes and the far north within an hour.
It has been called out more than 1,700 times in the past five years – venturing as far north as Sanday, Orkney and to Tiree, the most westerly island in the Inner Hebrides.
And it regularly airlifts injured patients to Aberdeen Royal Infirmary for treatment.
As well as responding to emergencies such as vehicle collisions, it can be dispatched to carry severely ill people to hospital if it can reach them more quickly than any nearby ambulances.
Charity leaders say the helicopter's main purpose is to provide "added resilience" to the country's existing paramedic cover and it helps get people to hospital within the "golden hour" which can be critical to their recovery.
The group also owns a rapid response road vehicle, which is deployed when conditions prevent the helicopter from taking to the skies or if the destination is close to its Scone base.
In November 2015, the charity replaced its original Helimed 76 with a "larger and more capable" Eurocopter EC 135 t2i.
It complements the two helicopters, in Glasgow and Inverness, and two fixed wing aircraft operated by the Scottish Ambulance Service at Glasgow and Aberdeen, which are mainly used to transfer patients between hospitals.
Major trauma centre behind schedule
One of the main arguments in favour of bringing the hoped-for second charity air ambulance to the north-east is the creation of a new emergency unit in Aberdeen.
Controversy has surrounded delays affecting the major trauma centre, but the government recently confirmed that it was on track to open this autumn.
It will deliver specialist trauma care to people who have suffered critical injuries in accidents, and is expected to save 40 lives per year when up and running.
The centre will include rehabilitation support services to help patients with significant injuries recover more quickly.
Ministers had initially promised that the trauma network between Aberdeen, Dundee, Glasgow and Edinburgh – which would cost an initial £30million and treat an estimated 6,000 patients a year – would be operational by the end of 2016.
However, First Minister Nicola Sturgeon said in 2017 that the government was taking time to "make sure we are getting it right", and released an extra £5million to speed up the process.
North East Labour MSP, Lewis Macdonald, has campaigned for the fast delivery of the centre and last night stated the case for the air ambulance to serve it.
The Labour politician said: "The charity air ambulance is a fantastic resource, and it would be great to have a second aircraft based in the north-east.
"When the major trauma centre is launched in October, it will be all the more important to have the shortest possible journey times for emergency patients travelling to Foresterhill from across the north-east, Highlands and Islands, and offshore. The second charity air ambulance being based in Aberdeen would make a big difference."