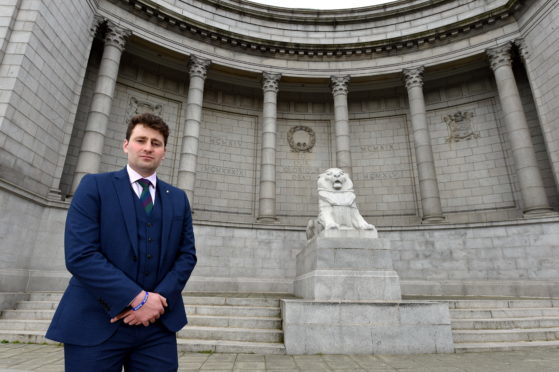 A concerned councillor fears the Aberdeen City War Memorial could be left in the dark for months due to a "bizarre" planning wrangle.
New LED lights were installed behind the granite lion on Schoolhill as part of the £30million redevelopment of the Art Gallery and Cowdray Hall.
However, it is understood they cannot be switched on because there is no planning permission or listed building consent in place.
As a result, the statue, along with the "To Our Glorious dead" dedication behind the sculpture, is currently shrouded in darkness at night.
Police were recently called to the Schoolhill memorial after a 20-year-old woman fell from the lion.
She was taken to hospital with serious head injuries following the incident which happened shortly after 2am on April 6.
Calls were later made by politicians to help prevent the local "tradition" of climbing the lion.
Michael Hutchison, councillor for the George Street and Harbour ward, said: "I'm disappointed that the lighting here could be out for several months as a result of a planning wrangle within the council.
"It seems bizarre that a major council project could have carried out work without the planning permission to do so.
"The lion doesn't look like a typical memorial, and when it's dark the inscription isn't visible just now – it might explain why some people try to climb on it.
"It would be nice to have this sorted out sooner rather than later."
The granite lion was designed by Aberdeen sculptor William Macmillan and is made of silver-grey granite from Kemnay.
It was unveiled to the public on September 29, 1925 by King George V when he opened the Cowdray Hall and the nearby Art Gallery.
A council spokeswoman said: "There is an exterior lighting scheme to the war memorial as part of the redevelopment of the Art Gallery and Cowdray Hall and it will be delivered as part of the project."