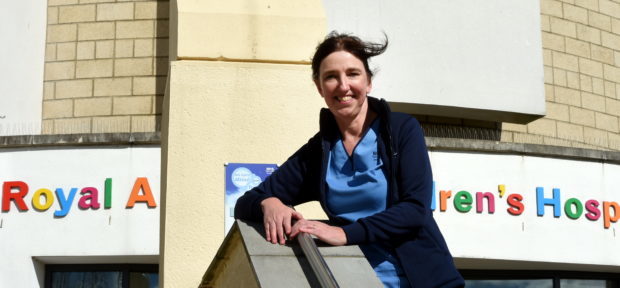 This week, the Press and Journal has highlighted the physical harm allergies can cause people, today Ben Hendry writes about their mental toll on children.
The simple pleasure of dining out, or even just sitting down to a tasty home-cooked meal, is a chance to unwind and relax for most of us.
But for children suffering from food allergies, the experience is often fraught with anxiety as their next mouthful could cause them to suffer a life-threatening reaction.
Aberdeenshire teenager wants to study biology and find cure for her allergies
North-east youngsters who react adversely to everyday items such as nuts, milk and eggs undergo such crippling levels of stress around mealtimes that many have been referred to psychologists.
Lorraine Clark is paediatric allergy and immunology clinical nurse specialist at the Royal Aberdeen Children's Hospital.
She has been working in the city for 26 years, specialising in allergies for the last seven.
This week, she is speaking out to highlight the ordeal that young sufferers go through.
She said: "The anxieties that come with allergies are a big part of what I do, it is much more complex than people might believe.
"It can cause an awful lot of anxiety, I have had to refer quite a lot of children to clinical psychologists because we do not want their allergies to get in the way of their lives.
"When these conditions get children so worried that they can't do things, that is when we need to intervene and do what we can to help.
"It often means children aren't invited to sleepovers or birthday parties."
On Monday, the Press and Journal reported that Kintore youngster, James Dempster, had to see a child psychologist after developing a fear of food stemming from going into anaphylaxis following his first taste of peanut butter.
North-east woman using her own allergy ordeal to help others
And earlier this week research emerged indicating that people with allergies are at greater risk of developing anxiety and depression than those without.
As many as 11% of people with conditions such as asthma and hayfever have been found to develop a mental health problem within a 15-year period, compared to 6.7% of people without any allergies.
The research, published in the Frontiers in Psychiatry journal, also found that children with allergies suffered more emotional and behavioural problems than those without.
But Ms Clark explained that some children in her care have bonded over their shared conditions, and provided each other with a morale boost.
And the expert's message to young allergy sufferers is a positive one.
She said: "Allergies are a pest but they shouldn't get in the way of people doing what they want to do."
Multiple food allergies are causing concern
Ms Clark says the biggest change she has noticed in recent times is that an increasing number of children are being admitted to hospital with allergies to multiple food types.
And she reckons one reason for this could be that children nowadays are growing up in too clean an environment.
She said: "It makes life more complicated when you're allergic to several things, and there has been an increase in children who fit that description."
The specialist says that immune system illnesses such as asthma, eczema and allergies are more common in the western hemisphere.
She added: "These are more of a western sort of problem, people used to play in the garden with mud pies and there was not so many allergy sufferers."
Ms Clark noted that scientists remain unsure of whether the so-called "hygiene hypothesis" has merit.
The theory states a lack of early childhood exposure to infectious agents and parasites increases the likelihood of developing allergic diseases by suppressing the natural development of the immune system.
But the nurse, who treats children aged from infancy to 16, added: "If children are around normal levels of bacteria growing up, then that could help their immune systems."
About 80% of children who are allergic to milk and eggs will outgrown the condition, while the same applies to 20% of children allergic to peanuts.
However, all of them can prove fatal and Ms Clark feels there is not enough awareness about the dangers milk and egg allergies can pose.