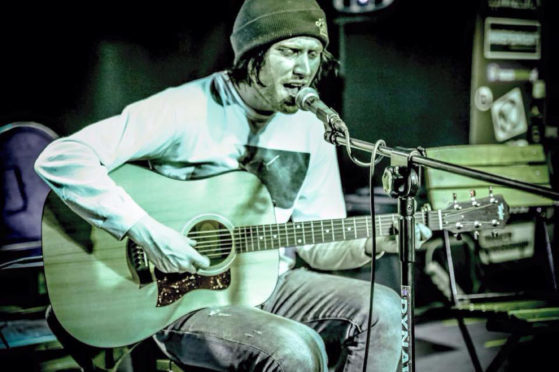 A musician has undergone emergency facial surgery after being mauled by a dangerous dog at the end of a gig in Aberdeen.
Craig John Davidson, 30, had just finished a performance at Spin Records in the city's Littlejohn Street when he was attacked by a pitbull-type animal.
He was rushed to hospital following the incident on Saturday afternoon and required 18 stitches and two hours of specialist surgery.
Mr Davidson, from Ellon, has raised concerns the injury could hinder his music career as the scarring may make it difficult to appear in promotional materials.
He said: "The surgeons had to put my facial muscles back together.
"They told me I'm scarred for life.
"I just hope the injuries don't always remain visible."
Mr Davidson was attacked by the dog after spotting it during a cigarette break.
"I looked at it and bent down and said 'Hello, you' and then he jumped up at me and bit me in the face," he said.
"It all happened so fast and my instinct was to pull away and then run. There was blood everywhere.
"What scares me the most is that the dog could have attacked a child.
"Without a doubt, we would have been talking about something much more serious."
A police investigation into the incident has been launched.