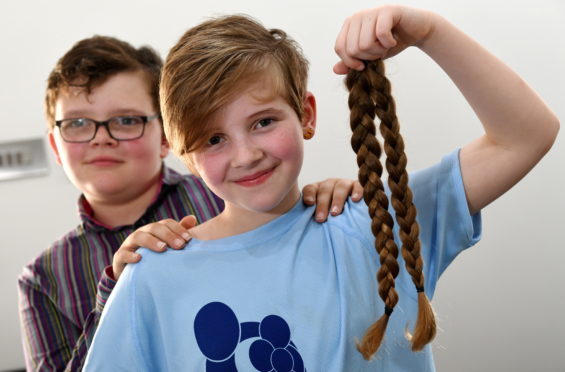 A schoolgirl has had her hair cut to raise money for charity in memory of her uncle who died of cancer.
Leighann Milne came up with the idea to raise funds because she wanted to help other patients affected by the illness.
The 10-year-old chose the charity CLAN, an organisation providing both emotional and practical support to people with cancer across the north of Scotland.
The primary six Fernielea Primary School pupil has already raised more than £200 for the charity.
Her 12.5-inch-long hair has now been transformed into a short pixie style for the fundraiser.
The young girl said: "My uncle Jim died from cancer this year, so I was thinking about doing something to help people suffer less from the disease.
"I'd like to raise money to help any other people who are going through a hard time with cancer."
It is only the third time in her life that Leighann has visited a hairdressing salon.
Her hair will be donated to The Little Princess Trust, a charity providing wigs to children and young adults who have lost their own hair through cancer treatment and other illnesses. The trust was launched by the family of a young girl who was diagnosed with a tumour whose parents struggled to find high-quality wigs for children.
Fernielea Primary School headteacher Lisa Walker praised her pupil's dedication.
She said: "She is doing this for the third time and for a fantastic charity that has supported many families within the community. She is a very caring and brave pupil who is always thinking of others."
Leighann's mother, Andrea Milne, 41, said the family were all impressed.
She said: "I am very proud of her.
"We all are. For only being 10 years old, everyone thinks it's amazing what she's done."
Donations can be made by visiting www.justgiving.com/fundraising/andrea-milne4