A group of "horrible" thieves have been caught on CCTV stealing handbags, jackets and other donated goods from a local charity that supports breast cancer patients and research across the north-east.
The three individuals were recorded pulling bags stuffed full with donations through a locked gate at the front door of the Bosies charity shop on Aberdeen's Justice Street just before midnight on Thursday.
Expensive security cameras costing thousands of pounds were recently installed at the shop to prevent such crimes.
The shop's manager, Maggie Lenahan, said well-meaning donors had dropped off the items for the charity earlier that evening – despite a warning on the front door that goods left when the shop is closed are "always stolen".
The three thieves, who Mrs Lenahan said looked to be between 20 and 25 years old, are seen in the footage rummaging through the bags, searching for clothes they liked.
One of the thieves, who was wearing a black jacket with a large fluffy hood, can be seen holding up dresses and shirts and checking their sizes before stuffing them into stolen handbags.
After they spent about five minutes stealing what they wanted, the group then left the scene.
Mrs Lenahan, who is a breast cancer survivor, said: "We found out on the Friday morning, there was still clothes and other items strewn all over the place in front of the gate.
"It's really frustrating, and it really angers me that these three could be so horrible and steal from charity.
"It's not as if they could say they thought it was rubbish – it was clearly donations, and they reached right through the gate to pull the bags out and onto the street and rummage through them.
"They made off with a lot of stuff unfortunately, a lot of handbags, jackets and that.
"We've had it before actually, and we had to put up a sign asking people to please not leave their donations outside the shop in the little alcove when we're not in because it would tend to get stolen.
"Because people kept stealing, we had to spend 33,000 on this CCTV, and the worst part is we had actually hoped the CCTV would prevent stuff like this from happening – but these women just completely ignored it, it was really brazen."
Mrs Lenahan said she has informed the police of the theft, and will hand the CCTV over to officers to assist in any investigation.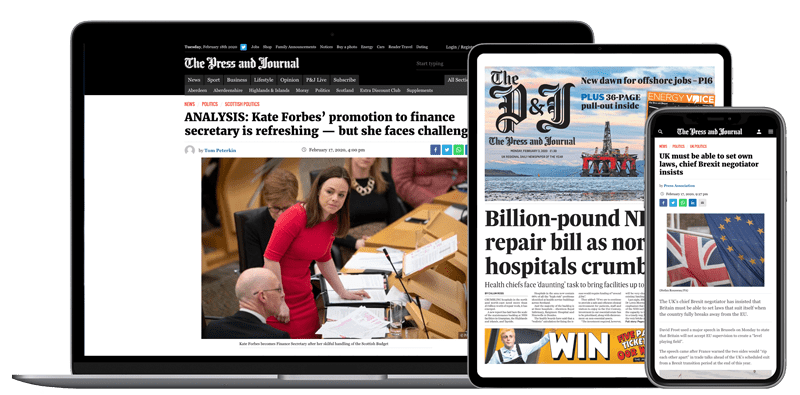 Help support quality local journalism … become a digital subscriber to The Press and Journal
For as little as £5.99 a month you can access all of our content, including Premium articles.
Subscribe