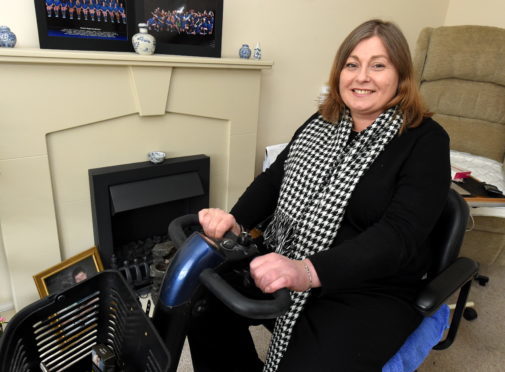 An Aberdeen mum with advanced multiple sclerosis has launched a fundraising campaign to help her receive "life-changing" stem cell treatment in Mexico and reclaim her future.
Susan Campbell, 49, was first diagnosed with the debilitating condition when she was 30.
The mother-of-two, from Westhill, managed to retain her mobility for a number of years in her 30s, but as her condition worsened she has lost the ability to walk – and is losing the use of her left arm and hands.
But despite being told there are little options for further treatment in the UK, the courageous mum –with the help of her own mother, Ann Middleton – has now started an online campaign to raise £47,000 and fly across the Atlantic to Mexico.
Miss Campbell said she hopes the hematopoietic stem cell transplant could give her a real chance to limit the progression of the MS, which is at the secondary progressive stage.
She hopes to reach her fundraising goal as soon as possible, as her date at the medical facility in Puebla has been set for July.
Miss Campbell said: "Receiving this treatment would be everything for me.
"Right now, on the Expanded Disability Status (EDSS), I'm sitting at level eight. Level 10 is death, so I've not really got any other options left.
"The aim of this treatment is to halt my MS from progressing and getting worse. If I'm lucky, I might be able to get back some of what I've lost.
"The treatment involves four sessions of chemotherapy. I've never had it before.
"I'm a bit scared, yes, but it's my only option.
"I'm desperate to raise the funds, so I can secure my place on this life-changing treatment and have it done before my MS gets worse."
So far, Miss Campbell has already raised thousands of pounds towards her goal.
Her mother Ann said: "Susan has just a tremendous spirit, and I will always admire her for that.
"She's never once asked, why is this happening to me?
"Ever since we started the fundraising, I have been absolutely amazed by the incredible generosity shown by so many people.
"If we managed to raise enough, it would just mean the world to Susan and our whole family."
Miss Campbell said: "I've been totally surprised by the number of donations that we've had so far, from friends family, and a lot of anonymous people too.
"But I don't think I would ever have been able to raise as much as I have already without the help of my mum, she's been working really hard to get a lot of donations for me, which is really touching."
She added: "I've been told that I've got a few good years left in me – but I'm only 49.
"I'm just too young not to have a future."
To donate, visit www.justgiving.com and search for Susan Campbell.