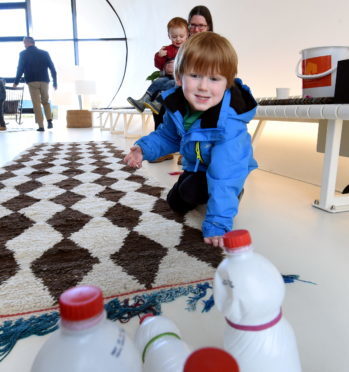 Scores of families turned out to help support cancer patients living across the north-east at the weekend.
Maggie's Aberdeen threw open the doors of their centre at Foresterhill for their third annual fun day, which helps raise vital funds to provide practical and emotional support for cancer sufferers and their loved ones.
Visitors enjoyed a variety of games, such as skittles, ping pong throw and splat the rat, with face painting and jewellery-making on offer too.
Despite the threatening grey clouds above, the rain stayed off – meaning visitors could tuck into the barbecue provided by Malmaison.
And there was also the chance to have a look inside an air ambulance. By chance, it landed with a patient at Aberdeen Royal Infirmary and after making sure he was safely in the care of medics, the team opened up the doors to the helicopter to let some excited youngsters inside. It proved so popular that a road ambulance also popped down, switching on the blue lights and welcoming people on board.
Paula Cormack, fundraising manager for Maggie's, said: "Now in its third year, this was our most successful family fun day yet, with record numbers of attendees and lots of new faces.
"It's a real team effort to run this event and we're incredibly lucky to have help from so many wonderful volunteers, many of whom have directly benefited from the support at Maggie's.
"Events like this are really important not only for fundraising, but also in driving awareness of Maggie's, with the aim that everyone and anyone facing the challenges of cancer in the north-east can access our unique programme of practical, emotional and social support."