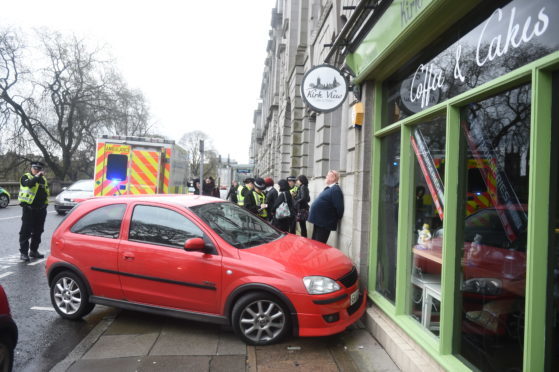 A pedestrian was taken to hospital yesterday after being involved in a collision with a car which mounted a pavement and then "smashed" a window at a city centre cafe.
The pedestrian, in her mid-40s, was walking along Union Terrace in Aberdeen around noon.
The red Vauxhall Corsa was said to have smashed the front window at the Kirk View cafe, scaring diners.
Police last night said that charges had been pressed against the 18-year-old driver, and a spokeswoman said the force was continuing to investigate the incident.
Emergency services were called at 12.09pm when passers-by raised the
alarm.
The owner of the cafe, Rob Milne, said a huge noise resounded through the premises.
Mr Milne said: "I was in the middle of making a cocktail when there was this very loud boom.
"The car went right into the window and smashed it, and we have no idea how much it will cost to repair.
"There were a lot of customers in when it happened, who were quite shook up by it."
Mr Milne said the injured woman appeared to be responsive and was sitting up by the time the ambulance arrived.
"Thankfully, it didn't appear that she was too seriously hurt", he said.
The businessman added that glaziers were attending the cafe yesterday afternoon to replace the smashed pane of glass.
The driver of the car, which was left with damage to its front passenger side, was seen discussing the incident with staff at the cafe while council street cleaners swept up debris outside.
Councillor for the Midstocket and Rosemount ward, Bill Cormie, said that crashes in Union Terrace were rare because of the 20mph speed limit in place there.
Mr Cormie said: "It is always sad when you hear of any accident in the city centre or elsewhere.
"I would think the poor lady involved will be traumatised through this incident."
A spokesman for the ambulance service added: "We received a call at 12.09pm about an incident on Union Terrace.
"We sent one ambulance and a paramedic response unit, and a female patient aged approximately 45 was conveyed to Aberdeen Royal Infirmary."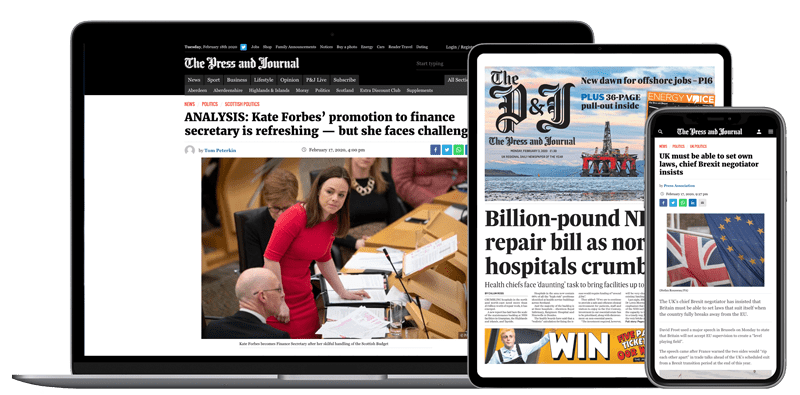 Help support quality local journalism … become a digital subscriber to The Press and Journal
For as little as £5.99 a month you can access all of our content, including Premium articles.
Subscribe