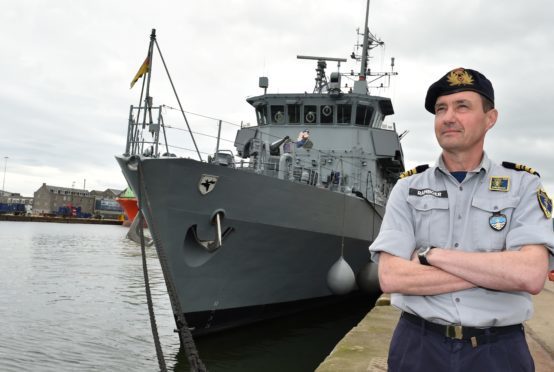 The spectre of the First and Second World Wars still loom large for many today, but for one Nato fleet, clearing up their explosive aftermath remains a matter of life and death.
It is estimated that more than 100,000 mines are still on the seabed from those conflicts – most loaded with 1,000kg of dynamite, enough to blow up an entire village.
Safely disposing of them makes up the bulk of the work carried out by Nato's mine counter-measure group, which is comprised of vessels from various European nations.
Four of the minehunter fleet docked in Aberdeen yesterday, after taking part in the Joint Warrior war games exercise off the Scottish coast over the last fortnight.
Speaking aboard the 1,400-tonne, 200ft-long command ship, the HNLMS Mercuur A900, Commander Peter Ramboer explained the scale of the challenge before the unit.
The 49-year-old, who serves with the Belgian Navy, said: "There is no way of knowing how many mines were laid during the wars, it could be 150,000, so this is a never-ending task for us.
"In February we cleared 23 mines from an area near Oslo thought to have about 1,000.
"It was a German- occupied territory, so these mines were laid by the British to prevent the Germans from getting out.
"Every time we pull these from the sea we are dealing with 1,000kg of dynamite – if that blew up in a village the square would be gone, the houses would be gone.
"There are cruise ships going everywhere now, and increasing interest in using the seabed to lay cables, so more and more countries want to be rid of these old munitions."
The warships, which are bedecked in colourful signal flags, will be berthed at Blaikie's Quay until tomorrow afternoon.
For the 40-strong crew of the Mercuur, their few days in the Granite City represent the first time they have been on land for a month.
Cdr Ramboer said: "We sailed from Antwerp on April 4 for counter-mining operations on the landing beaches of the Second World War in France.
"Our main task is keeping shipping lanes open, ensuring that chain of supply remains intact."