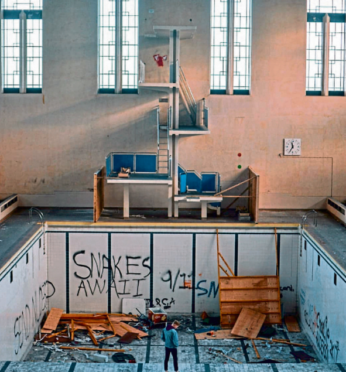 A leading business figure has condemned "mindless" vandals who desecrated Aberdeen's historic Bon Accord Baths.
Aberdeen's iconic Bon Accord Baths, which first opened on Justice Mill Lane in 1940, was shut in 2008 due to council cuts and has lain abandoned ever since.
In the years since its closure, the Bon Accord Heritage group has actively campaigned to reopen the facility.
But shocking pictures have emerged from within the art-deco building showing graffiti scrawled in the pool area with discarded furniture and wooden boards lying in the deep end.
Geoff Cooper, the city centre for business body Aberdeen Inspired, said:  "Aberdeen Inspired are really disappointed to see this mindless act of destruction.
"Vandalism is at mercifully low levels in Aberdeen city centre, making this damage even more shocking.  So many individuals and organisations are working really hard to make a positive difference in Aberdeen and acts of vandalism such as this just upsets this positive momentum."
In 2015, the heritage organisation commissioned a study to determine if the structure of the building had fallen victim to alkali-silica reactions – a condition known as concrete cancer, which affects older buildings.
The group initially feared that if the structural fault was found to be too widespread, proposals to restore the site to its former glory could come to an end.
But the results of the investigation have showed that such worries were unfounded, and the concrete cancer has not affected nearly as much of the baths as expected.
An Aberdeen City Council spokesman said council officers would meet with Bon Accord Heritage today to inform the group of its progress.
He added: "The safety and security of all Aberdeen City Council sites is a priority and a number of measures have been put in place to inhibit access to the Bon Accord Baths.
"Where there is a breach we investigate and work closely with colleagues in Police Scotland to address any issues. We would remind members of the public of the dangers of gaining access to and entering unauthorised areas.
"The long-term future of the Bon Accord Baths remains the subject of a memorandum of understanding between Aberdeen City Council and Bon Accord Heritage."
Jodie Johnston of Bon Accord Heritage said: "We are working on a plan to bring the baths back into use and will be able to provide an update after the meeting."