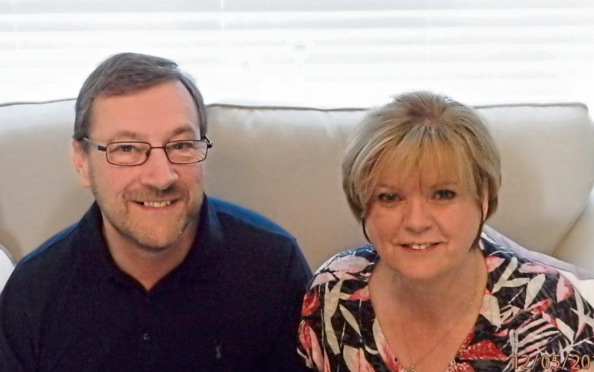 A first-time foster carer has spoken out about her journey in the hope that others might follow in her footsteps this Foster Care Fortnight.
Jenni Murray and her husband Richard have been caring for a baby since November after discussing the prospect of becoming foster parents for a number of years.
At the age of 58, Mrs Murray decided the time was right.
She said: "I always wanted to do it, but when we had our two boys there was no room.
"They grew up, and one of them doesn't live at home any more.
"We did all the things we were 'supposed' to like holidays and days out, but we felt like there was something missing."
So the pair, who have been married for 31 years and live in the Bridge of Don, Aberdeen, applied to become foster parents.
Mrs Murray, who was previously a nursery nurse, admitted they were tentative at first as they went through a training course.
She said: "It's a gradual thing and we decided to do it step by step.
"You're not committed and you can leave when you want.
"But we went to the next one and the next one after that, and soon we were done."
Alongside training the couple were welcomed into a large support network.
They got to know a buddy mentor and a number of other foster carers living nearby even before they were given a child to look after.
"It's like starting a new job," Mrs Murray said.
"There are rules but there's a lot of foster carers here to help and they're all amazing.
"I have a buddy mentor so I can phone her if I need advice, and there's a really great bunch of four or five foster carers in the Bridge of Don who have all been amazing.
"I don't drive so if I need a lift somewhere I phone and somebody's there. If I need advice, somebody's there.
"Even if it's late at night I just phone one of them. You never feel like you're alone."
Mrs Murray is now six months into her fostering journey.
She said: "It's a bit overwhelming but I love it. I absolutely love it.
"We have only been doing this since November last year and I'm hoping that we can do this as long as we can.
"I wish we'd done it earlier.
"We spoke about it two or three years ago and I think we should have done it then.
"Anyone who is thinking about it should give it a bash. It's like the best job I've ever had."
Fortnight of fostering events to begin
Two weeks of events are beginning today to mark this year's Foster Care Fortnight.
A range of events has been organised by Aberdeen City Council to recruit potential foster carers and transform the lives of youngsters in need.
From 1pm members of the local authority's recruitment team will be available at Cummings Park Community Centre for a fostering coffee afternoon.
This will be followed by an information evening at Deeside Christian Fellowship in Milltimber at 6pm on Wednesday, and a stall at the Gay Pride Village on Queens Links next Saturday afternoon.
Councillor John Wheeler said: "Foster carers play a vital role in ensuring that our children, young people and families experience the best outcomes possible.
"A huge part of that is helping to keep our young people in Aberdeen in a loving and familiar environment, close to relatives rather than placing them in other areas of the country where they may feel isolated."
Further information on foster caring can be obtained by emailing adoptfostrecruitment@aberdeencity.gov.uk or by calling 01224 694554.