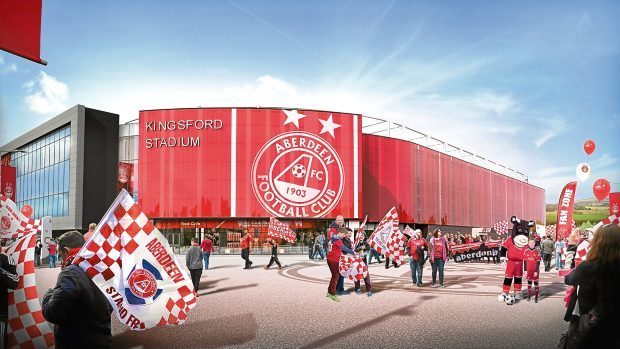 Objectors to Aberdeen's £50 million new stadium plans have snubbed talks with the club.
The olive branch was put forward by club chairman Stewart Milne who wanted discussions with the No Kingsford Stadium (NKS) group over the stadium and training facilities plan.
But last night the group, which claims it has raised £64,000 towards a legal challenge of the development, said the meeting would be "inappropriate".
The plans for Aberdeen FC's new stadium at Kingsford just took another step forward
A statement from the group read: "NKS received an invitation from AFC to discuss the stadium and facilities for which Aberdeen City Council have been given planning approval.
"Our group represents thousands of local residents who are opposed to the principle of the stadium development and the erosion of the greenbelt.
"It would be inappropriate to meet to discuss a development which we are fundamentally opposed to, and particularly as we intend to challenge this planning decision."
The project was approved by Aberdeen City Council in January, despite neighbouring Aberdeenshire voting against it in an advisory capacity.
The group believes the city council has gone against its own policies of developing on green belt land – which will form a key plank of the judicial review.
But the club has argued the review will merely delay work and ultimately could simply be approved again by planners – and risk having to pay legal fees for the council if they lose.
Mr Milne described the plans for a legal review of the planning process for granting the stadium plan as a waste of money.
He said: "It's patently clear that the objectors cannot stop our plans. They could potentially delay the project for a matter of months, but at significant cost and risk to them.
"Those donating or making pledges towards a potential judicial review are simply wasting their money on a futile exercise that will put a drain on council resources and could damage our reputation as a region in which to invest."