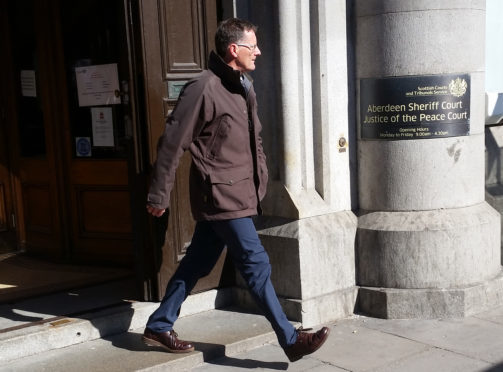 The owner of a north-east shooting range has been fined £4,000 for his part in the tragic accident that saw a close friend crushed to death.
David Paterson died while working at the Seal's Cove Shooting Ground after a 600kg door fell on top of him as he attempted to move it using a tractor.
The 55-year-old had been working with business owner and friend Neil Anderson when the tragic accident took place on November 27, 2014.
The door was to be used as part of a gun shop being constructed on the site but he became trapped beneath it as Anderson looked on in horror.
Environmental health officers carried out an investigation into the death and their findings were reported to the Crown last year.
Anderson, who trades as Anderson's Guns, subsequently admitted not having a safety plan for the transporting of the door during an appearance at Aberdeen Sheriff Court.
The 59-year-old returned there to be sentenced yesterday, when depute fiscal Shona Nicholson revealed the failings that led to Mr Paterson's death.
She said: "Proper planning of the lift would have considered the position of the load and lifting equipment before, during and after the lifting operation, including the method by which the door would be lowered onto the planks of wood.
"The accused did not have any formal training or qualifications in the lifting of loads and it is not known what the extent of Mr Paterson's knowledge, training and experience was."
Representing Anderson, of Glensaugh, Fettercairn, defence agent Gavin Anderson said his client had been devastated by the death of a friend with whom he had worked since 2002.
He said: "He is remorseful and deeply regrets the events of that day, which he witnessed and which trouble him still.
The agent said Anderson had planned to give his friend a permanent position when the work at the site was completed and that there was a "bright future" ahead for the pair.
He added that the work was not a typical part of the activities of the business and there was a very low risk of repetition.
Sheriff Jack Brown told Anderson that while it had been a tragic accident it had also been "an avoidable one".
Nonetheless, he said he was willing to spare him imprisonment.
"No sentence that can impose will properly reflect the loss of David Paterson," he said.
"I am satisfied that a custodial sentence is not appropriate."
Following the sentencing, environmental protection team manager at Aberdeenshire Council, Louise Cunningham, said "proper planning" of lifting operations was essential.
She said: "This was a tragic and wholly avoidable incident that could have been prevented had the lifting of the armoury door been properly resourced, planned and organised by a competent person before the lift was started.
"Proper planning of lifting operations ensures not only that suitable equipment is provided for use but that it can be used safely too.
"Companies should be aware that Aberdeenshire council's environmental health service will not hesitate to take appropriate enforcement action against those which fall below the required standards when carrying out lifting operations and using or providing lifting equipment.
She added: "We would also like to express our sincere sympathy to Mr Paterson's family at this time."