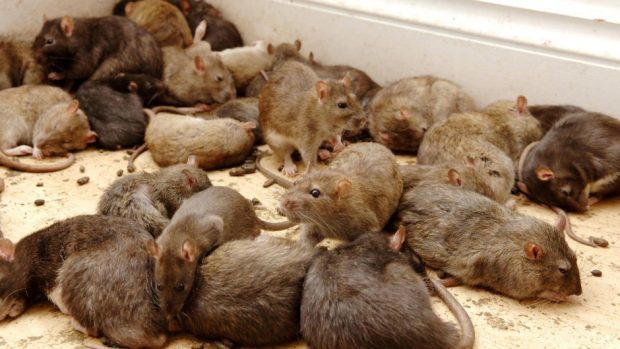 City construction work has been blamed for a plague of rats and mice in and around homes in Aberdeen.
Complaints made by council tenants about the presence of vermin have risen by almost 50% in two years.
The local authority's pest control team now responds to reports of rodents on a near weekly basis.
Calls have been made about the animals being heard or seen in walls, under sinks and in children's bedrooms
Residents living on Girdleness Road in Torry have submitted the largest number of complaints, with nine incidents of rodents between 2015 and 2017.
There were a further seven reports from tenants on Ferrier Crescent in Woodside and six from the adjoining Sandilands Drive.
Aberdeen City Council said an increase in the number of sightings "would not be uncommon" in areas where there is "a high level of ongoing construction work".
Over the past 12 months, officers have dealt with 54 reports of rodents in or around properties and there are signs the sightings are increasing.
Linda Muir, who lives on Sandilands Drive, said: "Last year one of our neighbours went into her cupboard and there was a rat staring at her.
"Thankfully I've never had them in my own flat because I've got cats.
"Rats are gross and unhygienic. You can catch all sorts of diseases from them.
"I know we live on a council estate but we shouldn't be having to endure this in this day and age."
One of her neighbours on Ferrier Crescent, Angela Stephen, thinks the pests are blocking underground pipes.
"There are rat holes in the back garden," she said.
"They're ruining all the draining too. It's disgusting."
She added: "I had problems with the draining under my floorboards last year and the year before.
"I had to get the council out to suck up all the sewer water and the smell that came through my house was horrendous."
Jenni Coghill, a draughtswoman who also stays in the area, said: "We certainly haven't seen any in our flat but my next-door neighbour saw them on her balcony – and we live on the top floor.
"I think they're from the railway. We get a lot of foxes as well so it's part of their food source."
Evidence of the increasing number of rodents sightings was revealed within a freedom of information release from Aberdeen City Council.
A spokeswoman urged residents to get in touch if they experience issues.
"An increase in the number of sightings would not be uncommon in an area where there is a high level of ongoing construction work," she said.
"Pest Control officers speak with owners of commercial premises to ensure that they are taking the appropriate action to control any rodents in their property.
"Advice can also be given to domestic property owners and when required treatments will be carried out."
Environmental groups have suggested that an increase in fly-tipping and littering could also be partly to blame.
It is estimated that as many as 3.5 million rats live in cities throughout the UK, with some able to grow up to 11 inches in length.
The nocturnal creatures can reproduce up to six times a year, with the average litter containing between six and eight pups.
Network Rail refused to comment on the issue.