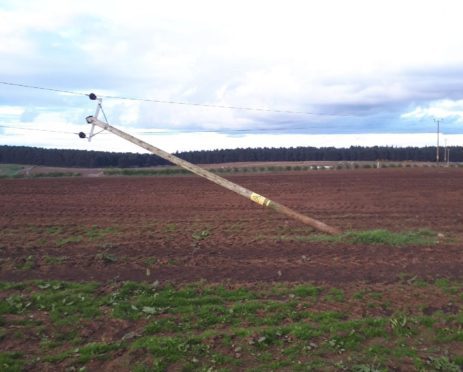 Farmers have been urged to be careful around "potentially lethal" power lines after a JCB driver brought down an electricity pole near Elgin last month.
The farmer managed to escape the cab unharmed, however Scottish and Southern Electricity Networks (SSEN) said the accident could have resulted in serious consequences.
As the agricultural industry heads into the busiest months of the year, SSEN has launched a safety campaign – called Look Out, Look Up – warning against the risks of colliding with the power network with heavy machinery.
Last year, SSEN recorded more than 780 incidents on farmland where vehicle drivers came into contact with poles, overhead lines and cables – cutting off local electricity supplies and creating the potential for serious injury, or worse.
Richard Gough, head of safety, health and environment at SSEN, said: "The Look Out, Look Up message encourages anyone working in the field to take stock of their surroundings and the overhead lines that may run across or into the land, as our rural landscape changes by the season.
"Trees and hedgerows may have grown since the last time you checked and now obscure the nearby lines, intense heat in the summer can cause lines to sag slightly, and working with different styles or heights of machinery may bring you closer to the lines than in previous years.
"Always take the opportunity to risk assess before any work begins – striking a pole or coming into contact with electrical equipment can have serious and potentially lethal consequences for those involved.
"We want to help farming communities to stay accident free throughout the year, and hope that through the Look Out, Look Up campaign, we can continue to raise awareness and lower risk."