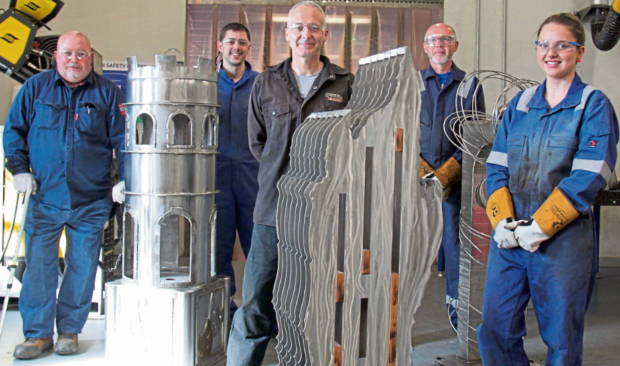 Young welders tasked with creating sculptures to transform Aberdeen city centre have unveiled their work.
Students at North East Scotland College (Nescol) have been working with the city council to design and create the steel artworks to breathe fresh life into the Granite City.
The project is part of Aberdeen's wider masterplan to improve Aberdeen's Broad Street.
And alongside their peers studying art and design, the first year fabrication and welding students from Nescol's Fraserburgh campus have now completed three of the four planned statues.
They include the Puffin Briggie, inspired by a story of young boys watching their caps rise from the steam of passing trains, and Northern Light, which draws inspiration from the city's own art and historical buildings.
Councillor Marie Boulton, spokeswoman for the city's masterplan, said: "It's very exciting to have local students working together to help deliver the Broad Street project, which will create a dynamic new space in the heart of the city.
"As gateway sculptures, the students' artwork will give residents and visitors a sense of Aberdeen's rich history and its bright future.
"Broad Street is a great example of the kind of partnership working that is driving the city centre masterplan forward."
The £3.2million Broad Street project will be open to pedestrians, cycles and buses only, while offering flexible event space in front of Marischal College.
The artworks will be installed on Upperkirkgate, Gallowgate, Queen Street and to the south of the redeveloped Broad Street, marking the start of the shared surface.
Fabrication and welding student Kirsty Godsman said: "Knowing that these sculptures will be on show in Aberdeen and that there will be so many people seeing them every single day – knowing that I had a part in helping build something – it's a great achievement."
Lecturer Martin Summers added: "All the students involved have worked hard to find ways to overcome the challenges to ensure that the end results mirror the original concepts.
"This has involved a lot of idea generation and testing of approaches to ensure the right solutions are found to create sculptures which will stand for years to come in Broad Street."