They are as Scottish as tartan, bagpipes and Highland cows.
And now Shetland ponies are being used to help bring comfort and joy to people living with dementia.
The cute animals were the guests of honour at a special healthcare conference in Aberdeen yesterday.
NHS Grampian held the event, at the AECC, to raise awareness of the latest care, support and research on dementia.
Almost 10,000 people are known to be living with dementia in the north-east, a leap of more than 45% compared with a decade ago.
Dr Jennifer Adams, consultant in older adults mental health said: "That's a significant increase and a real concern. Dementia is already one of the biggest healthcare challenges in Grampian and, as we are all living longer, we expect the number of people affected to continue to rise.
"The figures – as stark as they are – don't tell the whole story. Dementia affects more than just the person who is living with the diagnosis. It has also a significant impact on carers, families and friends and we all need to be aware of that.
"That's why it's important that we make sure that we've got the right support in place for everyone who is affected with a consistent approach.
"The therapy ponies are another tool that will help provide that. As an organisation we already support the use of 'therapets' within the clinical areas and the feedback from people living with dementia , carers and relatives was fantastic so we hope that the ponies and the specifically trained dementia dogs will be just as big a hit."
The ponies help to stimulate the patient to interact with their families and carers, providing them with a positive topic to talk about and also ease stress and tension.
Dr Adams added: "It is also worth highlighting that there are likely to be many people living with dementia that haven't been diagnosed across the north east and indeed Scotland.
"Too often we find that people are reluctant or fearful about acknowledging any cognitive issues they are experiencing.
"This is why we would like communities to be more aware of the condition and how best to support those in their communities. There is support available to help people living with dementia and those involved in their care but, of course, that help requires people to go to their GP if they are having problems."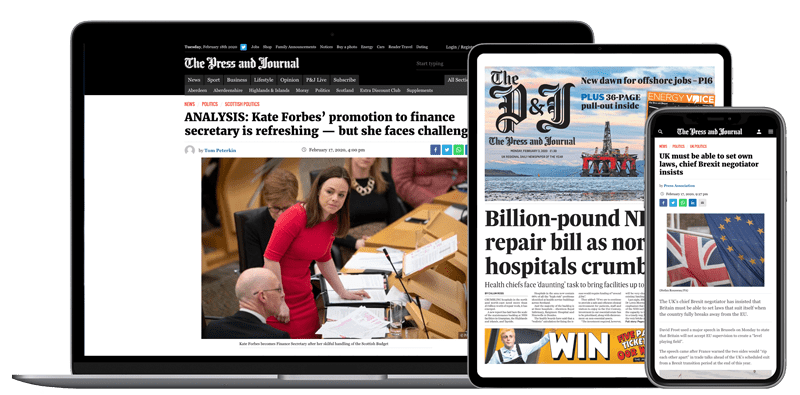 Help support quality local journalism … become a digital subscriber to The Press and Journal
For as little as £5.99 a month you can access all of our content, including Premium articles.
Subscribe