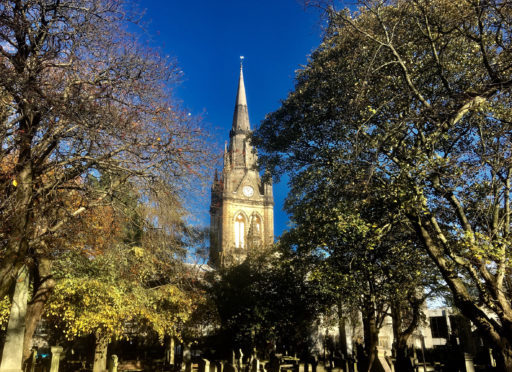 Plans are in place for the next stage of renovating a historic city centre church.
A planning application has been submitted to replace the chimney and new boilers at St Nicholas Kirk on Union Street as part of a wider refurbishment project.
The proposed work follows on from an ambitious council scheme to clean and tidy the gravestones at the church, which dates back to the 12th century.
The Hamilton Monument in St Nicholas Kirkyard on Union Street will also benefit from £15,000 of repair work, which will start this month.
It was built in 1833 in memory of Dr Robert Hamilton, a professor of natural philosophy and mathematics at Marischal College, in recognition of his humanitarian work, which included helping to improve Aberdeen's water supplies and campaigning for the abolition of slavery.
Made from granite with a marble dedication plaque, it was designed by architect John Smith – who was also responsible for the screen to the front of the kirkyard.
Yesterday, Reverend Stephen Taylor said the latest work on the east part of the kirk was being conducted through the Open Space Trust to open it up for the community eventually.
He said: "The old boiler is being replaced for the future and this is part of a much bigger project.
"Of course the council has been working on many of the old gravestones so that is also very welcome to keep the building up to date."
A design statement for the project states: "This application is for permission to discretely install new boilers in the crossing tower at organ control level which will service both kirks. This is a necessary precursor to the eventual removal of the existing boiler house as part of the main refurbishment works which are to follow.
George Street and Harbour councillor Ryan Houghton said he could not comment on the planning application specifically as it is live.
But he added: "The church is an iconic, historic building in Aberdeen and I'm sure any work for its future will be warmly welcomed."