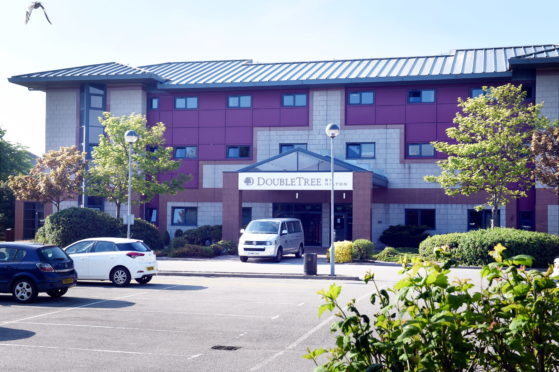 A top north-east hotel "posed a serious risk to public safety" by deliberately relabelling food to extend its shelf life, it has emerged.
Environmental health officers discovered that kitchen staff at the DoubleTree by Hilton in Aberdeen were also falsifying delivery records.
The steps taken to conceal the exact age and freshness of foodstuffs – some potentially hazardous – meant officials could not say whether they were safe for consumption.
Prawn crackers in toilet lobby and pork skin air-drying on shed roof: What health officers found during north-east inspections revealed
They immediately ordered the withdrawal of three items from the restaurant menu and the destruction of almost 100 individual food items.
Inspectors said the hotel had committed "an extremely serious offence" which was "particularly disappointing given the perceived standard of the business".
And it was warned that should "similar standards" be found again in the future, consideration would be given "to reporting the matter directly to the Procurator Fiscal recommending prosecution".
Aberdeen City Council's environmental health officers presented the DoubleTree Hilton with a lest of improvements to make and also ordered the urgent retraining of staff.
Management at the Beach Boulevard hotel said yesterday they expected "to uphold the highest of standard" and had been "working to fully address the matters raised" following the inspection, which took place in February.
A spokesman said steps had been taken to "fully address" the issues raised and said environmental health officers had been "satisfied" with the measures taken.
Aberdeen City Council said a follow-up inspection in March had revealed significant progress but also "outstanding unsafe issues".
The inspectors' original report noted: "We arrived to start our inspection at 9am so it was not possible for all of those foods to have been made on that day.
"After discussion with kitchen staff it was found that staff had been falsifying food records and re-labelling foods to extend their shelf life."
Some food products were deemed out of date, others potentially unsafe, while others were concerning because their exact date could not be correctly identified. One sauce was described as "unidentifiable"
Among the other breaches of food hygiene practices, inspectors noted that "sandwiches within the walk-in chill were covered with a wet, visibly dirty chef cloth".
Packets of naan breads were found "strewn across the floor" within the walk-in freezer, while salmon was being prepared in a manner that had the potential to be hazardous to health.
Hand contact surfaces within the kitchen, particularly fridge handles, were found to be "very dirty and sticky to the touch", indicating "a lack of frequent handwashing by staff".
An orange juice machine was found to be "visibly dirty and rusty on the inside" while "nobody was aware how often it was cleaned.
In all, 97 individual food items had to be disposed of, including raw prawns, fish, chicken, and red meat, "visibly deteriorated" horseradish cream, piping bags of squid ink mash, a variety of prepared vegetables and a number of sauces.
Cullen Skink, ham hock terrine and a salmon dish had to be removed from menus.
In the wake of the inspection, hotel management were told by officers they were "extremely concerned to find a general lack of control over food safety risks and a lack of appreciation of the importance of food safety among kitchen staff.
During the inspection council officers were told that product testing had been carried out to verify the standard of food, but documentation of this could not be required on request.
It became clear that two different food safety policies were being used and causing confusion to DoubleTree staff members, while the newest policy was found to be "inaccurate, inconsistent and had not been implemented in practice on the premises".
An Aberdeen City Council spokesperson said: "The report followed a routine inspection, carried out in line with procedure.
"The food business operator resolved the immediate issues at the time of the inspection."
A subsequent inspection carried out on March 27 found that while the inspector was "pleased to find a significant improvement" there were still outstanding unsafe issues.
Local councillor Sandra Macdonald said: "I was quite astounded at the poor practise at the well-respected hotel. There was clearly a lack of training or leadership. I am glad that there has been a significant improvement and that a council inspector highlighted the issues in the first place."
A spokesperson for DoubleTree by Hilton Aberdeen City Centre said: 'We expect to uphold the highest of standards when it comes to food preparation at our hotel.
"We have been working to fully address the matters raised in the EHO's February report. As a result we have adjusted our processes and conducted training sessions for our team members, the EHO re-visited us in March and have indicated they are satisfied with the measures we have taken."
Ian McWatt, director of operations at Food Standards Scotland said: "Scottish local authority environmental health officers have a crucial role to play in enforcing food law at a local level.
"It's extremely important that people in Scotland can trust the food they eat and every food business has a responsibility to produce food that is safe and does not mislead consumers."