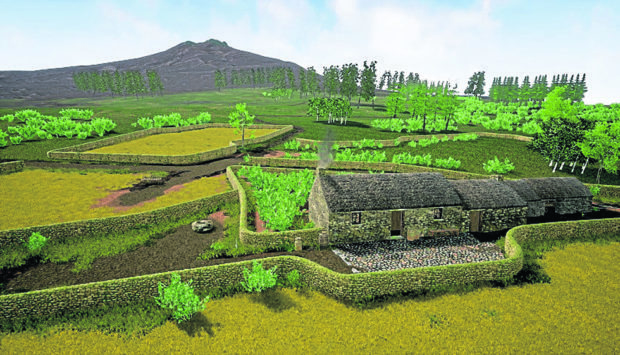 A new digital app has been released to help people learn about a crofting colony who lived at the foot of one of the most visited hills in the north-east.
The colonists lived on the slopes of Bennachie near Inverurie in the 19th century and the remains of their houses and fields can still be seen.
However, few of the 150,000 annual visitors are aware of the stories of the families who worked the ground and, in some cases, were forced off the land as rents were imposed on them by the local laird.
Now a new Digital Bennachie Colony Trail app has been developed to help hill walkers visiting the area learn more about their lives.
The Bennachie colony grew up in the early 19th century south-east of Mither Tap and at one time there were 75 people living on the hill.
The crofters carried out skilled work such as quarrying and knitting.
In 1859 the Court of Session in Edinburgh approved the division of the Bennachie Commonty into nine parts. The landowners demanded rent and many left or struggled to make payments and were eventually evicted.
Alison Sutherland, an Aberdeenshire council ranger, said that the app should prove a hit with Bennachie visitors.
"The app will enable me to show schools and groups virtual images of a colony house and the surrounding landscape", she said.
"A picture can say so much more than words, and this will enhance their visitor experience by helping them to understand how people lived on the hill in the 1800s."
The app, which was funded by grants from the Heritage Lottery Fund and the Bailies of Bennachie charity, shows where the crofter's houses were and how they made a living from the sparse and unyielding terrain.
Dr Jo Vergunst , of the anthropology department at Aberdeen University, worked closely with the Bailies of Bennachie on the project.
He said: "I'm delighted to have supported the app, which shows the real impact of the university's interdisciplinary research in archaeology, anthropology, history and education. Working with the community has made this a showcase in Scottish heritage research and it underlines the significance of the wider Bennachie landscape."
Along with Doric poems, stories and music users can explore the inside of one of the croft houses and see digital reconstructions of the crofting landscape.
The Digital Bennachie Colony Trail app is available to download free from app stores for both Android and Apple operating systems.
Users have been advised to download the app before leaving home as the Bennachie visitor centre does not have wifi.