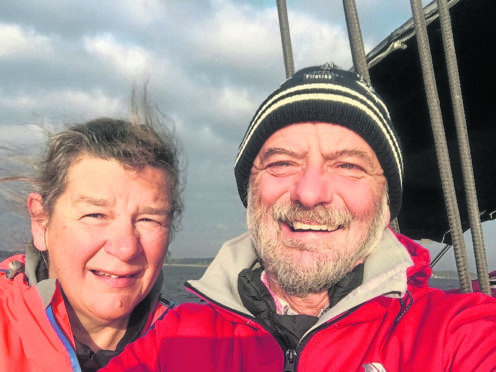 Deciding to quit the rat race to sail around the world sounds like something out of a Hollywood movie.
But for Lionel Sole and Elsie Downie, currently sitting on deck as waves gently lap against the side of the boat, the open ocean is their office.
Since setting off on the cruise of a lifetime in 2015, the pair from Aberdeen have visited more countries than they can remember while sailing around Europe and the Americas.
Free to roam where they please, the adventurous couple have discovered a new zest for life since hitting the waves, and funded their trip by selling their home, cars and possessions.
It hasn't been exactly plain sailing however, as their decision to pack up and take to the water was motivated by a routine trip to the dentist which turned out to be anything but routine.
"Four and a bit years ago I found out I had cancer of the jaw," said Lionel, 62.
"My prognosis wasn't great and it was a real shock.
"I ended up having a major operation at Aberdeen Royal Infirmary, and my lower jaw is now made up of parts of my leg.
"Even after the operation my prospects weren't looking too great and it took us to a real crossroads.
"I had always wanted to travel the world and remember thinking that if I found myself ill again in two years I wouldn't be saying 'oh I'm so glad I went back to work and didn't go sailing'.
"And so it was at that moment we decided to just go."
But they weren't going into their mammoth trip without any experience because two years earlier, after months of talking and dreaming, the pair had bought a yacht, named The Ruby Tuesday.
"We had done lots of two-week sailing holidays already," said Lionel.
"Mostly around the coast of Britain and Ireland.
"We had always wanted to one day sail the world but my diagnosis sort of brought things further forward."
Lionel, who was working as a helicopter pilot, applied for early retirement, while Elsie, 57, decided not to continue with her job at Inchmarlo Care Home.
In a positive turn of events, Lionel's early retirement was granted while the couple were aboard The Ruby Tuesday during a short break to Shetland.
The welcome news was the final go-ahead they had been waiting for, and as Lionel put it, from there "they just kept on sailing and never went home".
With their lives packed on to their 40-foot sail boat, on August 3 2015 Lionel and Elsie officially became a couple with no fixed abode.
The world was now their oyster, but the pair had very different ideas about where to explore first.
"I think it's fair to say that Lionel's were a bit more adventurous than mine," said Elsie.
"You see I had never sailed in my life until about seven years ago.
"I'd done a five-day 'competent crew' course down in Edinburgh but had no experience on long ocean crossings.
"Lionel, on the other hand, had spent part of his career in the Merchant Navy and was more confident on open water.
"He wanted to cross the Atlantic before Christmas, which was madness to me.
"In the end our first long crossing was from Cork in Ireland to Brest in northern France.
"I was terrified but absolutely loved it."
From there the pair sailed around the Bay of Biscay visiting any towns or villages that took their fancy.
It was an adventure that saw them pass though the Spanish version of sea locks, led Lionel and Elsie to some of the freshest seafood they have ever had, and saw them return to their boat laden with containers of shellfish.
The next stop was Lisbon followed by Madeira, and on the hunt for some winter sun, Christmas was spent in the Canaries.
"By the following September I had decided I was ready for the Atlantic circuit," said Elsie.
"But the winds were stronger than we'd anticipated, and at one point we sailed so far south we were only 400 miles from Brazil.
"Our relief that we had arrived safely in Barbados after 13 days of straight sailing was tremendous.
"We spent that winter in the Windward Islands of Saint Lucia, Grenada, Dominica and Saint Vincent and the Grenadines, which was wonderful.
"To avoid hurricane season we left the Caribbean and sailed up the west cost of the US for summer."
An idyllic year and a half had passed, though it had not been without its challenges.
As part of his ongoing treatment, Lionel must fly back to Scotland every four months where doctors monitor his condition, providing a stark reminder about why they set off on their journey in the first place.
Yet the pair have no intention of slowing down, and have plans to sail to the Southern Hemisphere visiting South America, Australia and New Zealand in the process.
But there are also some more basic challenges that come with the trip.
"One of the hardest things about living on a boat is the space," said Lionel.
"If you've ever hired one of those static caravans at a holiday park, it's kind of like living in one of them.
"Previously we had a six-bedroom house in Aboyne, so you can imagine how much stuff we had to get rid of.
"When we left and moved into The Ruby Tuesday all we took were some bags of clothes and pots and pans.
"Some of our old furniture is being stored in a shipping container on Elsie's brother's farm.
"The funny thing is when we packed that container we didn't know how long we'd be gone for, because in theory we were just on a holiday up to Shetland which we haven't yet come home from.
"I think that if we ever do buy another house it will be smaller rather than bigger as we've got used to living so compactly now."
Other challenges include ensuring there is enough water on board and finding opportunities to do laundry.
While cruising through remote and uninhabited collections of islands, carrying enough food can be an issue too.
"We've not had too much success with fishing, unfortunately," said Lionel.
"But when we do catch something it's just fantastic.
"Spanish mackerel in particular is a favourite of ours, it's the tastiest fish ever and from sea to plate in half an hour – real fast food."
When they're not spending time perfecting their fishing techniques or mapping out their next destination, the pair occasionally spend time among us landlubbers.
"We realised that we have visited all these wonderful countries but only seen them from the coast," Elsie said.
"Full-time life on the boat is amazing but now we also want to explore countries inland, enjoy some of the comforts of living in a house and we dearly miss the companionship of a pet."
The couple had come across the concept of house-sitting a few times and after researching it, they found TrustedHousesitters.
The idea behind the business is that for a yearly fee members can find unlimited free house and pet-sitting opportunities all over the world.
"We told ourselves that if the house sitting idea totally failed then at least it would be another experience for us to write about on our trip around the world," Lionel said.
"But it turned out better than we ever could have expected.
"Our first house-sit was for a lady in Washington DC who was a sailor too.
"We took her out on our boat for a trip and since then we've become great friends. We were out visiting her last week."
The travelling couple have countless house-sits lined up over the summer and have loved having the option of spending time on land when it suits them.
It has raised some doubts in their minds however, about what comes next.
"I honestly don't know if we will ever live back on land and resume a 'normal' life," said Lionel.
"We have such a good set up now that we're a bit worried it might be too boring to be back on land full time.
"We are staying in a house sit in Queens, New York at the moment and Elsie is homesick for our boat already."
But with no plans to halt their adventure any time soon, their only worry is where to next.
It's a hard life, but someone's got to do it.
To follow Lionel and Elsie's adventure find their blog at www.lionelandelsie.blogspot.co.uk
www.trustedhousesitters.com
LIONEL & ELSIE'S TOP HOLIDAY PICKS
LA GOMERA CANARY ISLANDS
TOBAGO CAYS SOUTHERN GRENADINES
ORANGE CREEK BAHAMAS
PONTINE ISLANDS ITALY