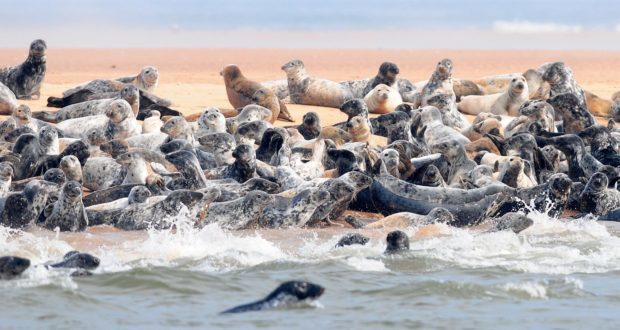 Nobody has been charged for disturbing seals at an Aberdeenshire reserve since special protection was afforded to the wildlife creatures 10 months ago.
But this contradicts the dozens of videos of harassment which have been published by volunteers.
Holyrood's environment committee approved a move last May making it an offence to harass the hundreds of grey seals at the mouth of the Ythan Estuary under the Marine Scotland Act 2010.
Anyone who is proved to have disturbed the gentle mammals at the Newburgh beach faces a £5,000 fine, or even time behind bars.
But new information from the police shows no crimes have been recorded under the act at the estuary between January last year and February this year.
However, Lee Watson, one of the organisers of volunteer group Ythan Seal Watch, has catalogued dozens of videos of visitors ignoring the signs and fences at the site, and entering the seal's protected area on the north side of the estuary.
He said disturbing the seals can create the risk of stampedes, which can result in smaller animals being crushed to death.
Mr Watson added: "We feel there has been a lack of response to what we have been submitting.
"We've taken several incidents to the police. They have cautioned one visitor, and once the police visited him he hasn't turned up again.
"So action has been taken, but nobody has been charged.
"There was a point over the Christmas period when we were recording between 10 and 12 incidents a day of harassment, and that included everything from causing stampedes and sneaking up on the seals to disturbances by boats.
"We have a detailed record of everything that's happened since the legislation first came into force, with times and dates, and we're currently putting that evidence together for our annual report."
Wildlife crime officer PC Doug Darling said: "We have received a very small number of calls in relation to the seals, but no reports of incidents that would constitute criminality.
"Police Scotland works closely with our partner agencies and interested parties to help provide advice and prevent any incidents.
"I would like to remind people that the posting of videos or pictures online does not mean the incident has been reported to the police.
"We would urge anyone with concerns to report these to estuary managers or Marine Scotland and if it is suspected a crime has been committed, to phone Police Scotland on 101."