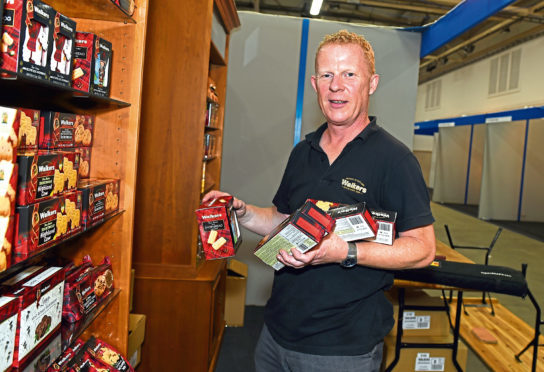 A stacked menu of cookery demonstrations and local produce will be served up at Taste of Grampian later today.
Thousands of people will flood into the Thainstone Centre in Inverurie to sample the best flavours the region has to offer.
Now in its 19th year, the festival is the largest of its kind across the whole of Scotland.
Top celebrity chef James Martin will return to the event for a third time and will give a cookery demonstration.
His previous appearances were such a huge success that this year's one sold out in just 40 minutes.
Returning as the main sponsor of the event will be Specially Selected Pork while the Press and Journal is a media partner.
Visitors will be able to enjoy cookery demos throughout the day, head-to-head school competitions and over 180 stands.
There will also be gin and craft beer masterclasses.
And Colin Slessor, star of BBC's The Mart, will go head-to-head in two cook-offs.
The first will be with Graham Mitchell, of the Cock of and Bull, Balmedie in a surf and turf showdown.
The pair will be asked to come up with a dish which combines pork with seafood.
Mr Slessor will also take on local farmer Jimmy Dick in a "Wham Bam Lamb cook-off".
It was also confirmed that wine writer, columnist and TV personality Susy Atkins will return to the show to head up the wine tasting sessions.
Local musicians will entertain the crowds throughout the day and into the evening with the night market, from 6pm-9pm.
The bands and solo acts will be spread across four different stages and entry is free with a day ticket.
Aberdeen's Soul Bar will be showcasing their talents in a cocktail masterclass in the outdoor arena.
With their very own pop-up, they will be serving cocktails and drinks as well as having their own music in the shape of Kat Purnell and Myke Blake to entertain.
John Gregor, chairman of the event, previously hailed the continued success of the festival after two decades.
He said: "The ethos of the event is still the same as when it started, to invite people to come and taste the best produce that the area has to offer."
Tickets are £8 for adults and can be bought on the door. Entry for under-16s is free.
The event runs from 9am-9pm.
PUFF: For your chance to win last-minute tickets for the sold-out James Martin demonstration visit the P&J Roadshow team