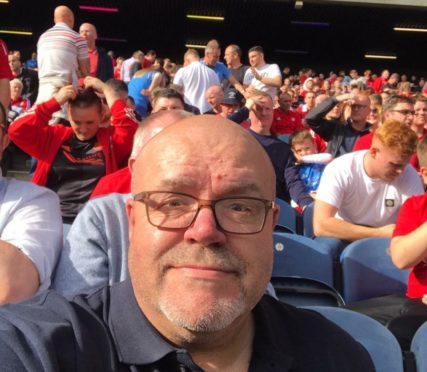 A Dons supporter arrested for chanting sectarian abuse during a recent game had been attending Pittodrie for more than 50 years without any trouble.
George Barbour, 59, was taken to his first match when he was only four.
But on May 5, he was escorted from Pittodrie during amatch against Hibs for making offence marks "aggravated by religious prejudice".
At Aberdeen Sheriff Court yesterday, Barbour's lawyer said that he behaved in an "out of character" fashion after receiving devastating news about his battle with bowel cancer earlier that day.
Barbour, who admitted conducting himself in a disorderly manner and uttering offensive remarks, was fined £200.
Fiscal depute Vicki Bell told the court that when he was challenged about his comments, Barbour, of Denburn Court, Aberdeen, said he could not recall making them.
Defence agent Iain Hingston said his client had never before been in trouble with the law and was "pretty embarrassed" to be in the dock.
Mr Hingston added: "He has been attending Pittodrie for 54 years, and never troubled the staff there before.
"He can't recall the remarks, which were made in the heat of the moment.
"He is living with a very severe diagnosis in terms of bowel cancer and, prior to this, he got some pretty bad news about some results so had a lot on his mind."
The court heard that Barbour has since learned that he will be welcome to attend Dons games next season.
Sheriff Philip Mann said: "I understand that people get excited during football, to the point where they will shout inappropriate remarks at opposition teams.
"I am prepared to accept this was a lapse in your otherwise unblemished record as an Aberdeen supporter."