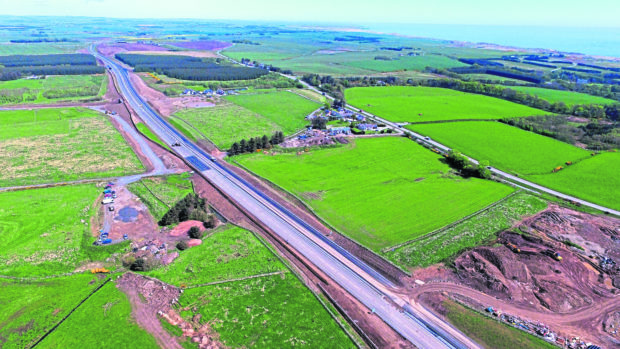 Nicola Sturgeon has vowed to take allegations seriously if they relate to workers' safety on the Aberdeen bypass project amid claims that accidents were "under-reported".
The first minister was challenged yesterday on internal reports which appeared to show that there had been 115 incidents on the scheme in the first year of work – despite Transport Scotland previously saying there had only been 23.
Scottish Labour leader Richard Leonard has called for an inquiry into the claims, which were first revealed in trade publication Construction News, and north-east MSP Lewis Macdonald highlighted it again at first minister's questions yesterday.
Ms Sturgeon confirmed that the Scottish Government had raised the issue with the consortium building the Aberdeen Western Peripheral Route (AWPR).
Nearly four injuries or near misses every week involving Aberdeen bypass construction workers
The SNP leader said: "We expect any contractor on any project for which we are responsible to work to the highest standards of health and safety, and that applies to the AWPR.
"There is a dispute by Transport Scotland about the way in which some of those figures have been presented, and I would be happy to ask Transport Scotland to contact Lewis Macdonald to discuss those concerns in more detail.
"That said, we take all allegations seriously, and we have raised the matter with the contractor."
Ms Sturgeon added that responsibility for health and safety on site "rests with the contractor" and that the Health and Safety Executive was content with processes on the site when it visited in April last year.
The completion date for the £745 million AWPR has been pushed back from spring to autumn and the report claimed that pressure to complete the 37-mile road scheme quickly was linked to workers quitting and higher than reported accident numbers.
After first minister's questions, Mr Macdonald said: "It's deeply concerning to learn that corners were being cut and safety being compromised on the AWPR project, due to workers being under intense pressure to meet the completion date. Speed should never come before safety.
"It's vital that the Scottish Government through its agencies like Transport Scotland, take a hands-on, proactive approach to health and safety rather than simply leaving it to the contractors.
"The publication of internal safety reports from the Aberdeen Western Peripheral Route, which suggest that incidents on the project have been chronically under-reported, highlight the need for the Scottish Government and Transport Scotland to take a lead.
"If safety incidents aren't being properly reported then how can they know the scale of the problem and how can they ensure that lessons are learned and mechanisms put in place to prevent further incidents?"