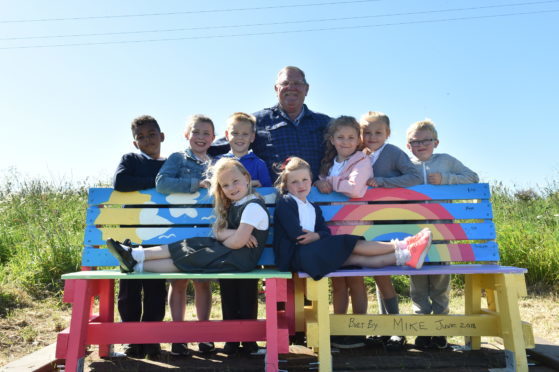 Children from two Aberdeen primary schools have the unveiled community benches they helped to paint.
The seats on the Cove Woodland Walk were built by Mike Duncan, who has been helping to revitalise the area around the public path to the east of the suburb.
He said: "The children really have contributed to their community.
"The great thing is that because they helped on the benches they're going to walk past it with pride."
Work on the one-mile walk, which lies next to land currently being purchased by the Cove Woodland Trust, first began four years ago.
Mr Duncan, and members of community group Cove in Bloom, opened up the route by clearing out the undergrowth and overgrowth which had become unruly over time.
Relying entirely on donations to spruce up the area, Mr Duncan has been able to recycle materials into tables and flower planters.
The new benches were built from old crates which had previously been used by an Aberdeen oil firm to store pipes in, and were decorated using paint donated by Dulux.
They were then painted by Mr Duncan with help from pupils from the nearby Charleston and Loirston primaries.
He said: "I got them up to undercoat the benches and then they filled in the patterns.
"There was more paint on my driveway by the end of it than on the benches."