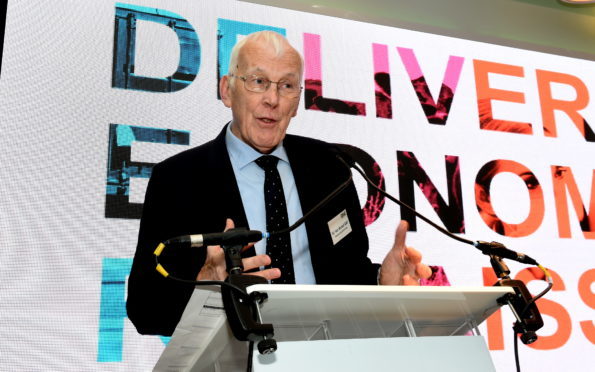 Businessman and philanthropist Sir Ian Wood has been given Scotland's highest possible honour.
Just 16 people are allowed to hold the title of Knight of the Most Ancient and Most Noble Order of the Thistle (KT) at any one time.
All of the appointments to the Order are made as a personal gift from the Queen in recognition of the Scots who have either held a high public office or contributed significantly to national life.
In 2016 Sir Ian was awarded a Knight Grand Cross (GBE), the highest rank in the Order of the British Empire.
And now he is thought to be the only person in Scotland to hold both the prestigious honours.
He said: "I am greatly honoured to have this recognition from the Queen – which in itself is pretty gratifying.
"It's based on work I've done in business, public life and philanthropy along with a lot of very good other people and of course my family, so I'm happy to recognise that they share it."
Sir Ian was born and educated in Aberdeen and for 40 years he grew oilfield services firm John Wood Group – now Wood – into a company spanning 50 countries and employing more than 42,000 people.
He led a review into maximising economic recovery in the UK Continental Shelf in 2014 for the UK Government, and a Scottish Government commission into vocational opportunities for young people that same year.
Sir Ian founded charity The Wood Foundation in 2007, which encourages citizenship and enterprise for youngsters in Scotland, and works with 65,000 smallholder tea planters in sub-Saharan Africa.
The organisation pledged £10.7million to The Lady Helen Parking Centre at Aberdeen Royal Infirmary and £62million to Opportunity North East (ONE) which focuses on growing businesses and creating jobs in the region.
Sir Ian said: "It's a little bit of recognition for the north-east and Aberdeen as a lot of the work I have done has been in the oil and gas industry here.
"It's nice to see this kind of honour being given to someone in the north-east."
Sir Ian will be installed into the Order as a Knight of the Thistle on July 6 during a special service at St Giles' Cathedral, Edinburgh.
And the 75-year-old said he has no intention of slowing down.
"I have never, ever had any debate about continuing to work," he added.
"I am very committed to my philanthropy and ONE. I enjoy the things I'm doing a lot so I'm going to carry on."