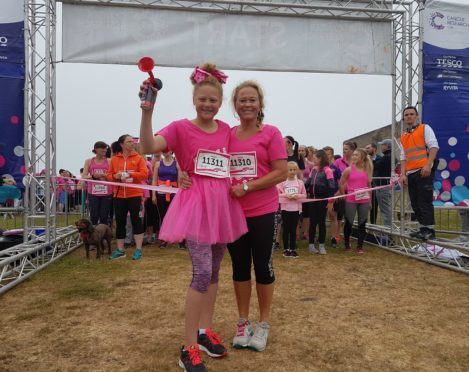 Runners struck a blow against cancer and brightened the beachfront of Aberdeen as they pounded the streets to raise money for lifesaving research.
Almost 2,200 people took part in the annual Race for Life yesterday in an effort to raise about £150,000 for Cancer Research UK.
Sounding the horn to start the 5k women-only event at Kings Links was Stonehaven dance teacher Gillian Bitta and her 12-year-old daughter Aspen.
Addressing the crowd, the 55-year-old paid a moving tribute to her mum, Elizabeth Macrae, who was diagnosed with cancer just three months before her death in October.
Mrs Macrae, a former captain of Stonehaven Golf Club, first became unwell with headaches last summer and doctors organised a scan fearing she may have had a stroke.
It was a hammerblow for the family when the results revealed four tumours in her brain. Further tests showed the disease had started as a melanoma skin cancer then spread.
Mrs Bitta said: "I miss absolutely everything about my mum, but I know she'll have been up there smiling down on us today.
"My mum was the hub of the family. It's not until you lose someone so close to this disease that it makes it all the more real.
"Every little bit of fundraising will help other families not to have to go through the heartache of losing a loved one."
Mrs Bitta played two songs dedicated to her mum over tannoys as she helped runners to warm up for the challenge.
She enlivened the crowd with dance moves performed in time with Portugal the Man's upbeat tune Feel It Still, as her mother had some "very special memories" of going on holiday to Portugal over the years.
And she blasted Abba's Kisses Of Fire as a nod to her mum's love of the legendary Swedish pop group.
At 11am a sea of pink-clad runners, walkers and even some four-legged participants then snaked its way along the beachfront before returning to the finish line, also at Kings Links.
Although one in two people in the UK will be diagnosed with cancer at some stage in their lives, more are surviving the disease now than ever before.
Any money raised yesterday will help Cancer Research UK scientists find new ways to treat cancers and save more lives.
Race for Life event manager for Aberdeen, Jennifer Ewing, told the runners: "Sadly, most of us know someone whose life has been touched by cancer.
"But thanks to the huge progress that has been made in the fight against the disease, more people in Scotland are surviving cancer than ever before.
"Our aim is that one day everyone will beat cancer and that we can catch all cancers in the early stages.
"The more research we can fund, the sooner that day will come, with the hope that one day all those battling cancer can be cured."