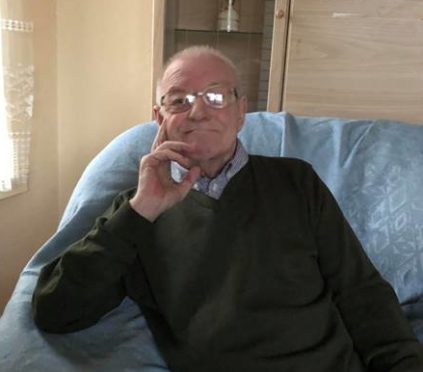 The heartbroken son of a pensioner found dead in an Aberdeen market hall two days after going missing has demanded answers.
Frank Finnie, who had dementia, vanished from his home in the Sheddocksley area of the city on Thursday.
Police began searching for the 80-year-old, who often popped into Aberdeen's Indoor Market for a coffee on his way to work years ago.
Body found in city centre shopping area was missing Frank Finnie, police confirm
And on Saturday, his body was found in the market – two days after CCTV captured him falling through a fire exit into an unused part of the building.
Last night, Mr Finnie's son Keith said he was "looking for answers" about why nobody had heard, or found, his father sooner.
Praying that his father didn't suffer, the 44-year-old said: "All I have been told is that he sustained a serious head injury. I just need to get some closure on this – I hope he wasn't lying there needing help and suffering for all that time.
"I'm also looking for answers as to why the door wasn't alarmed – if it had been he might be sitting here right next to me now.
"I've lost my best friend, I'm utterly heartbroken."
Mr Finnie was last seen leaving his home at Taransay Court and boarding a bus to the city centre at about 2pm on Thursday.
When his family did not hear from him, they raised the alarm with the police and began making desperate appeals on social media.
With no sign of him on Saturday, Mr Finnie jun and a team of helpers searched the Market Street area and distributed his photo.
Mr Finnie jun said: "My dad used to work down near the harbour, so I guessed that's where he might have gone – he maybe thought he could just go in a grab a coffee before work like he used to.
"He had dementia, but it didn't affect him all the time – most of the time he was fine. He would have realised soon enough that he needed to go home."
Mr Finnie's body was found at around 1pm on Saturday after police officers involved in the search went to check the CCTV within the Indoor Market.
Last night, neighbour John Deans paid tribute to his friend, but also voiced his anger at how he "could have been lying there since Thursday".
He said: "He will be greatly missed. He never bothered nobody – he was always willing to buy someone a drink and he would always make sure everyone was all right.
"It's just such a shame about the circumstances – I hate thinking of him lying there for two days."
Kelly Watt, a former barmaid at Mr Finnie's local pub, The Three Lums, described Mr Finnie as a "loveable rogue".
She added: "I worked here a couple of years ago, but I still come in to see the regulars. Frankie was such a character – always joking.
"It's just such a shame that he's been found like this – it's horrible for the family. His son Keith told me that he's been there for two days and no-one had noticed him – I'm not sure how you'd cope with that."
A spokesman for the Indoor Market said he was unable to comment on the death and added: "We are still helping the police with their investigations."
A police spokesman said: "‎There are no apparent suspicious circumstances but inquiries are continuing to establish the full circumstances of the death. As is standard a report will be submitted to the procurator fiscal."