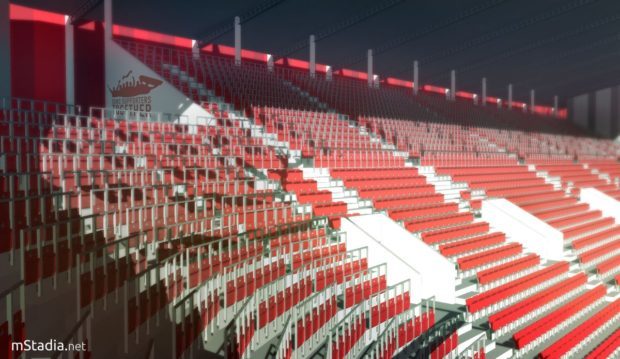 An Aberdeen FC fan group has said the club's new stadium could be "the envy of British football" if bosses install a safe standing area.
Dons Supporters Together (DST) has commissioned mock-ups of what the 20,000-capacity Kingsford Stadium could look like if 2,300 of the chairs were replaced with rail seating.
These would be slimmer chairs, allowing space for standing supporters and additional safety measures to prevent falls.
A survey conducted by DST earlier in the year found that 70% of its members are in favour of safe standing areas, while more than half say they would use it.
Kevin Mackenzie, chairman of Dons Supporters Together, said: "At Pittodrie, Aberdeen were pioneers in British football as the first ground with dugouts and it being the first large, all-seater stadium.
"Aberdeen moved with the times then and if they do so now and consider a full stand of rail seating behind a goal at the new stadium it could be the envy of British football."
DST has proposed that a full corner and a rear half behind one of the goals could be built with rail seating, which would allow 2,300 fans – or 11.5% of the total stadium capacity – to stand during matches.
Mr Mackenzie added: "We want the standing parts of the ground to be vibrant and noisy, which would be difficult if they are sparsely populated.
"With that, we will ask that the club strongly considers using an entire end behind the goal for safe standing."
A spokesman for Aberdeen FC said the club has promised to "seriously" consider the inclusion of safe standing at Kingsford.