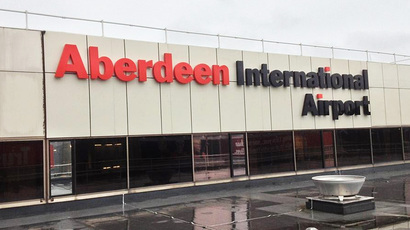 A north-east woman has described the "ridiculous" treatment she received while her family were delayed for 31 hours waiting to get a flight back to Aberdeen.
Lindsey Thoirs had been expecting to travel back from Palma on Saturday evening.
However she was eventually forced to wait with her family until the early hours of Monday to depart.
And the 25-year-old has hit out at travel company Tui for the way it handled the situation.
She was put in a hotel while they waited for the flight.
She said: "It was an appalling service we recieved from Tui.
"Myself my husband and my daughter and the other holiday makers have been treated absolutely ridiculously.
"My 11-month-old daughter has had to go through hell on two nights. On the first night the delay was so long we had no milk or nappies left to give our daughter.
"As the delay continued on there were no food stalls open and we had to continuously try to phone TUI reps ourselves to find an update as there was no one around to ask and when staff did try to call they would not answer the phones."
She added: "Luckily for us we did receive a cot in our room but we were one of only three families who did and more families didn't receive which is very unsafe and unsettling for a baby.
"By the time we flew it was 02.45 and this is when my daughter finally had a very restless sleep.
"If we had been told on Saturday night that we would not be flying until the early hours of Monday morning then we could have planned for this.
"We had to buy extra food at the airport due to length of delay and we also had to buy extra nappies for our daughter.
"I am absolutely appalled that the way the three of us have been treated and the lack of communication that was provided to us.
A spokesman for Tui said the flight was delayed as a result of an earlier delay to the aircraft operating the route.
The Tui spokesman added: "We would like to apologise to customers on the delayed flight TOM1665 from Palma to Aberdeen.
"Customers were provided with all-inclusive hotel accommodation and welfare at the airport."