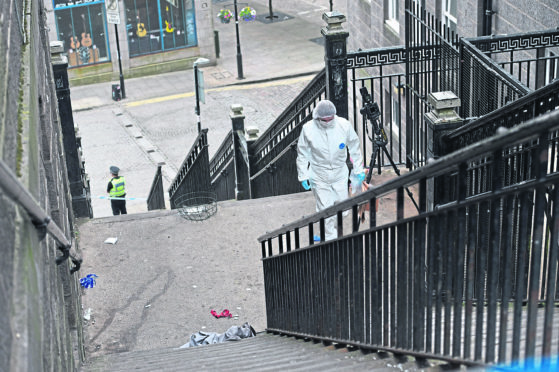 Police are still investigating after a man suffered serious injuries in a tumble down steep steps in Aberdeen on Tuesday night.
A force spokeswoman said last night that "inquiries are ongoing" into the incident on The Green.
The man, aged 25, is believed to have fallen down steps leading from Union Street to the Green and suffered a serious head injury.
Police have not ruled out foul play and are carrying out inquiries to establish what led to his injuries.
In the wake of the early morning incident – at around 2.30am – the steps were cordoned-off to allow for a forensic examination.
Police probe after young man suffers serious head injuries in Aberdeen city centre fall
An ambulance and a paramedic response vehicle were also despatched and the man was taken to hospital.