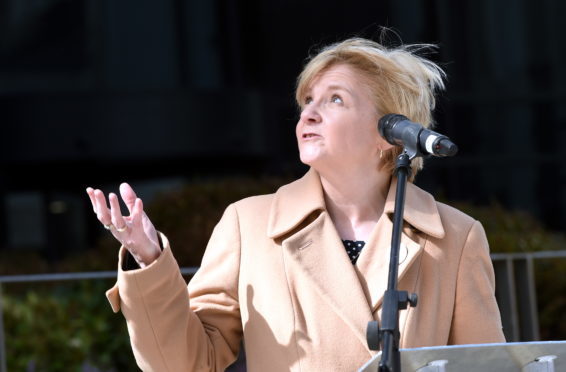 Aberdeen council chiefs are calling for talks on a second multi-million pound city deal to drive forward transport improvements.
A long-awaited study, commissioned by the council and carried out by Jacobs consultancy, has been published into the future transport needs of the city.
It identifies the need to "build a sustainable transport system", noting the high car usage in Aberdeen compared to other Scottish cities and urging more public transport links.
The document also calls for a focus on reducing pollution and driving costs for commuters.
The £750 million Aberdeen bypass, which is mostly funded by the Scottish Government, is due to open this year and is expected to reduce the number of lorries in the city.
Though it has been a hugely ambitious project, the council believes it cannot be the only one if the city and surrounding region is to continue to thrive.
One key aspiration is for the creation of a rail line connecting the new exhibition centre to the city centre and the airport.
It is estimated this could cost tens of millions to bring about.
Officially agreed on 21 November 2016, the existing city deal resulted in a joint investment of £250 million into the north-east by both UK and Scottish Governments.
Separately, Holyrood agreed to £254 million of infrastructure improvements but the majority of this money is allocated to rail upgrades around the Montrose basin.
Now council co-leader Jenny Laing has written to the Scottish Government seeking to begin talks on another multi-million pound deal.
Holyrood has said it does not believe now is the time to consider a second deal.
Mrs Laing said: "It is important that the Scottish Government understands that if the Aberdeen Region is to continue to prosper infrastructure and services need to keep pace with economic growth.
"We have now received the first STAG report which amongst other things highlights high car usage in the Aberdeen region with the city having a significantly higher car modal share than Edinburgh or Glasgow at 58%, 32% and 36% respectively.
"Now is the time for the Scottish Government to work with us and deliver an Aberdeen City Region Deal 2 that benefits Aberdeen, Scotland and the United Kingdom economies".
A Scottish Government spokesman said: "We have committed £125 million as part of the Aberdeen City Region Deal to develop world leading expertise, such as the Oil and Gas Technology Centre in Aberdeen, plus an additional £254 million for key infrastructure projects in the North East.
"The deals have only relatively recently been put in place, so we would expect to see clear evidence of positive delivery of any initial deal before considering anything additional."