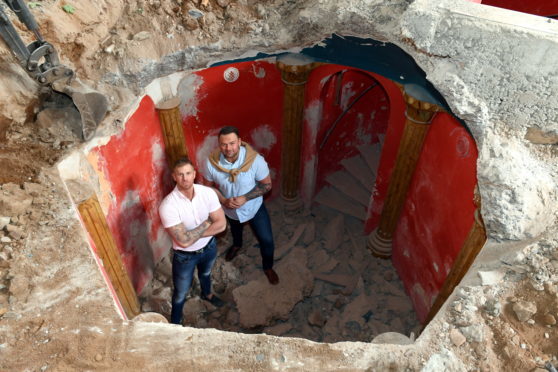 Construction has begun on a major project to breathe new life into what's thought to be the only purpose-built Masonic lodge in Scotland.
The building on Western Road, Aberdeen, has been lying empty for eight years, since its members moved to another base in the city.
Constructed in 1904 with a now-A-listed granite front, it was purchased by property developers Paul Gibson, 30, and Dean Smart, 31, last month.
The pair have already started work to transform the property into four 1300sq ft apartments, while keeping as much of the original building intact as they can.
Mr Gibson said: "It's an important piece of Aberdeen's granite heritage and we didn't want to lose it. Nobody wants to see anything that's been around since 1904 being demolished."
The original building was home to a circular underground crypt, which the developers are keen to turn into a focal point wine cellar with a glass ceiling residents can walk across.
Mr Gibson added: "The previous plans for the building were for it to be turned into a big family home, but they were going to just fill the crypt with hardcore and forget about it.
"We've put a lot of time in with architects and engineers to make sure we can keep it."
Mr Smart, who runs Diamond Property Developments with Mr Gibson, said they had been surprised but delighted to acquire a unique property.
He too stressed its regeneration would be sensitive in an effort to preserve its features.
"We were told that the lodge is the only one in Scotland that was purpose-built for the masons," he said.
"All of the others were converted from other premises. It's really quite surprising that we got it."
He added: "Everything in the property market is so modern just now. It's all got to be new and square with straight lines.
"There are so many developers which would take a building like this and turn it into something like that."
Mr Gibson said: "We hope to retain all the individual characteristics of this building."
The business partners hope to complete the building works within the next year.