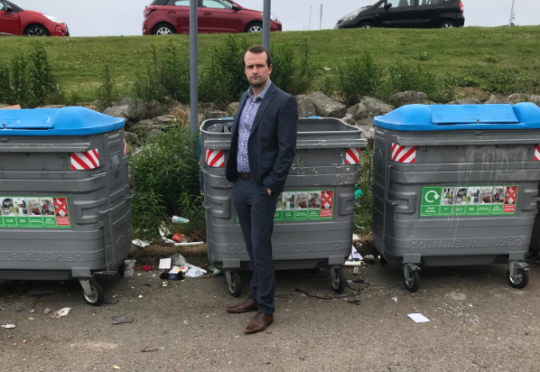 Residents have demanded that a "disgusting" council recycling centre is tidied up.
Complaints have been raised with the local authority about the site on Loirston Close in Cove Bay which deals with glass, paper and plastics.
Locals claim bags of items are often dumped at the side of overflowing bins and left for gulls to devour and destroy.
The council was notified about rats seen scurrying around the area in 2016.
But it is not yet clear who owns the land the bins are situated on, and would therefore be responsible for cleaning up the mess.
Discussions are ongoing to determine how the ownership of the car park where they are based is split between the nearby houses, shops and businesses.
Ward councillor Stephen Flynn has called for action from the council regardless – either by removing the litter from the area or moving the recycling point elsewhere on to land it owns.
He said: "Quite frankly it's disgusting with rubbish strewn everywhere.
"The fact it is private land has made it a real issue for road repairs over the years but I have nevertheless asked if the council can clean away the rubbish on this occasion.
"Ultimately, where the council does have control is over the location of its recycling bins.
"I have asked for clarity regarding future plans for these as we can't continue with the status quo."
Cove and Altens Community Council chairwoman Michele McPartlin said: "Items are often left outside the bins when they should be taken down to the nearby recycling centre at Tullos."
"The city council has a responsibility to make sure the area around the bins is kept tidy."