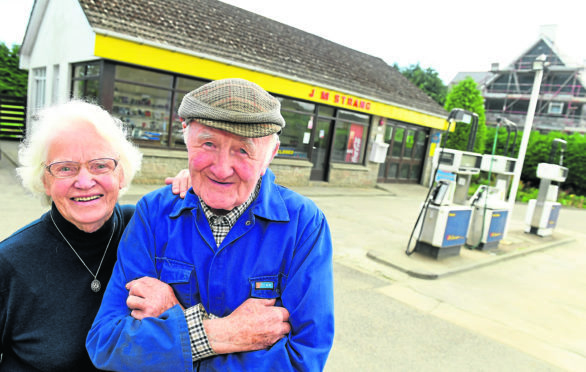 Two village stalwarts have been recognised for over six decades of service to their local community.
John and Rita Strang ran The Garage petrol station in Kincardine O'Neil from 1956 until March this year, when they retired after 62 years at the pumps.
The couple, who are both now in their 80s, devoted their lives to the Deeside community where they lived.
Through running the petrol station and a haulage business, Mr and Mrs Strang contributed significantly to village life, and have been recognized with the Lifetime Achievement award at the Inspiring Aberdeenshire 2018 awards.
In their nomination statement, the couple were praised for having "repeatedly gone over and above for residents and for their customers."
Mrs Strang said: "The local folks wanted to recognize us, but I didn't want any publicity.
"There was a public collection for a tea party in the public hall. It was a fun afternoon, and I thought that would be the end of it.
"But a customer, who is also a friend, nominated us for this award."
She said that in an ideal world they would have continued in the job they loved, but that time had begun to catch up on them.
"We would have liked to have carried on, but it's been a bit of a struggle the last couple of years.
"I'm not so able these days and technology has caught up with us.
"When we took over there were just two old pumps – one hand-operated pump and a multi-fuel pump.
"We replaced them with new pumps and carried on from there.
"There have been so many changes down the years, and so many petrol stations falling by the wayside while we kept going.
"Now people will have to travel towards Banchory and Ballater for fuel.
"There's been good times and bad times, but what I'll miss most is the company and the contact with people.
"They were all friends, and there were never any bad payers or disputes.
"Latterly we were on to our third generation of customers."
While The Garage has been up for sale since March, Mr and Mrs Strang's son and grandson are continuing to run the haulage business.
The awards are run by Aberdeenshire Council to celebrate the work of people in the area who support their communities, often unsung heroes.
Now in its sixth year, the event celebrates community spirit, courage and care, among others.
Provost Bill Howatson said: "There are so many wonderful people in our communities who are willing to go above and beyond to support each other.
"Each finalist is a true winner as their efforts and dedication are invaluable.
"It was also good to see so many Aberdeenshire Council staff were nominated, it really shows how valued our people are in the communities they serve."