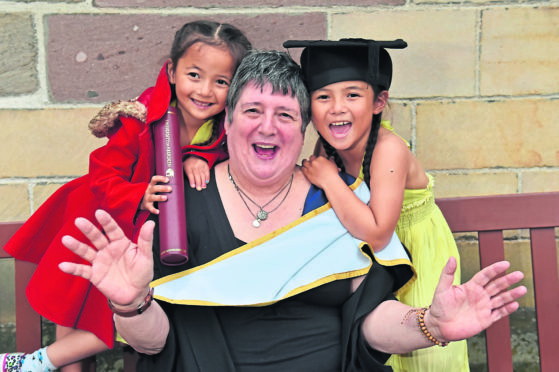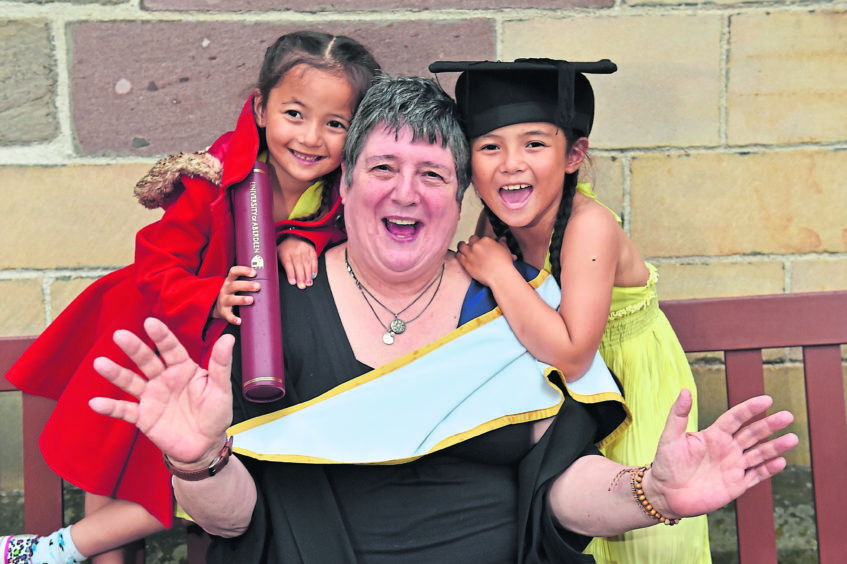 School's out for summer – or very nearly – but life was moving at a hectic pace around Aberdeen University yesterday.
No less than four ceremonies took place in Elphinstone Hall, which meant that both staff and students were kept busy.
Joining the evening's musical ceremony was Sheena Blackhall, the renowned Aberdeen-born poet, illustrator and singer.
A Granite City quine, Ms Blackhall was born in 1947 to country parents. She was handed down local songs and poems by her maternal grandmother Lizzie Booth of Coull in Tarland.
Yesterday she received an honorary masters from Aberdeen University, a place with which she has always enjoyed a close relationship while becoming one of the most recognisable figures around her roots.
For almost two decades, she has contributed to the work of the university's Elphinstone Institute and constantly played a part in its annual May Festival.
The Laureation Address for Ms Blackhall was delivered by university lecturer Professor Thomas McKean, who is one of the driving forces in enhancing traditional languages and dialects from all across the north east.
His speech, which was made entirely in Doric, celebrated her myriad contributions to literature and tradition.
Prof McKean said: "She represents the best of north-east identity and does it with style, confidence, perception and grace."
In her address to the new graduates, the renowned poet said: "The worst part of the day is behind you and I thank all at the university for awarding me this degree."
Music from students Liam Dyker and William Gray broke up the proceedings and set a wonderful backdrop for the evening's musical student graduation ceremony where Mhairi Sharp sang a rousing performance of The Piper of Dundee.
In the law ceremony yesterday morning, students were reminded of their "important responsibility" in their future careers by senior lecturer Derek Aukie.
He said: "You will be advising clients which has an impact on their work and lives which you have to be equipped for both intellectually and emotionally.
"Your studies have been challenging, but they have prepared you for this."
Graduations continue throughout the week with six honorary graduates left to be awarded degrees.