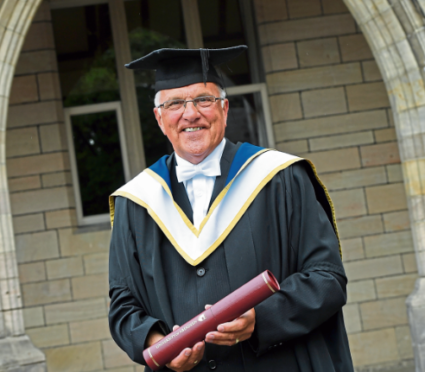 He knows the graduation routine by heart, after sitting through more than 250 ceremonies and gowning nearly 30,000 students.
But yesterday, it was Stanley Jack's turn to be centre stage as he was made a Master of Aberdeen University in recognition of his 16 years of service.
Mr Jack took on the role of Sacrist in 2001, after three decades with Grampian Police.
The job involves maintaining campus security, overseeing the university's mailing service and undertaking important ceremonial duties.
And in one instance, Mr Jack was called upon to persuade a nervous bridegroom to leave the nearby St Machar's Bar and return to his wedding in Elphinstone Hall, the stage of yesterday's graduation ceremonies.
During his address Mr Jack paid tribute to his former work colleagues and had some words of encouragement for graduates.
He said: "There's much you could say about life but I always think you cannot ask more of anyone than to be the best they can be.
"Whatever challenges you face after today whether in education, in work, in sport or in your personal lives if you can say to yourself I have been the best I can be you will succeed."
Alongside Mr Jack, the university also paid tribute to sociologist Gordon Marshall. He was awarded with a doctorate of science for his work with the Leverhulme Trust to provide grants for research and funding to educational establishments.
Congratulations to Professor Gordon Marshall, our second honorary graduate of this year's summer graduation. Gordon was awarded a DSc, Doctor of Science, for his distinctive contribution to research in Aberdeen and across the UK. pic.twitter.com/Py5Ln8laaA

— Uni of Aberdeen (@aberdeenuni) June 20, 2018
The rain before Mr Marshall's ceremony didn't dampen anyone's spirits, and the sun came back out just in time for families and friends to enjoy a celebratory glass of Pimm's on the lawn.
Musical performances from accordionist Euan Reid provided a fittingly upbeat backdrop to the day filled with smiles and celebrations.
Professor Marion Campbell, of the university's physics department, congratulated science graduates and read out a quote from Stephen Hawking.
She said: "Remember to look up at the stars and not down at your feet. Try to make sense of what you see and wonder about what makes the universe exist.
"Be curious. And however difficult life may seem, there is always something you can do and succeed at. It matters that you don't just give up."