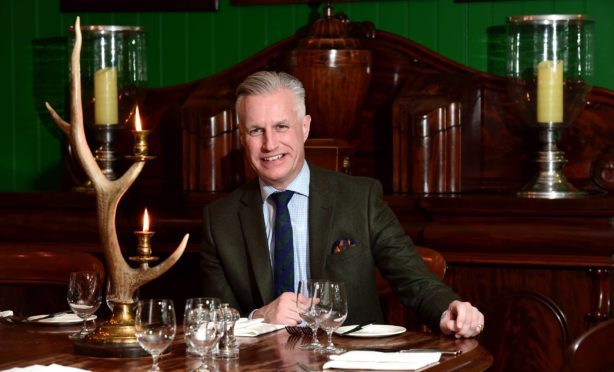 The son of a Fraserburgh farmer who sang the national anthem at the Commonwealth Games in 2014 and comperes for the Royal Family was given a special accolade from Aberdeen University yesterday for his services to north-east culture.
Robert Lovie, 48, said he was "beyond humbled" to receive an Honorary Doctorate from the university at yesterday's graduation ceremonies.
Mr Lovie, who has performed poetry and song in his native Doric tongue at venues throughout the world, has been singing and entertaining since he was eight years old.
Renowned as a commentator and compere at more than a dozen highland games throughout Scotland, including the Braemar Gathering, Mr Lovie has also helped raise hundreds of thousands of pounds for charity.
And, as a special surprise for the graduates of the schools of education and psychology, Mr Lovie took to the stage of Elphinstone Hall for a beautiful rendition of Caledonia, which reverberated throughout the rafters of the iconic venue and received loud applause from the academics and their proud families.
Addressing the graduates, Mr Lovie said: "I am beyond humbled and honoured to receive from this great and historic university in the city of my birth in the area I proudly call my home the degree of Doctor Honoris Causa.
"But this graduation today is for you, and may I give each and every one of you my sincere congratulations on achieving your degree.
"As you can tell by my strong north-east accent, I was brought up in a hard-working agricultural environment on my parents' farm in the Buchan area of Aberdeenshire, and I'm delighted my parents are here today.
"In my life, I have had my share of ups and downs, but the rule of hard work and constant determination to succeed was bred into my as a child at home on that Buchan farm, and I have carried that work ethic with me my entire life.
"By gaining your degree today, you have proven you work incredibly hard and have the determination to succeed – but you will soon find out that, even with that degree in your hand, life will require constant hard work and determination for continued success.
"As you leave your graduation today, take with you the tradition and heritage of this wonderful academic institution and the principles and values you have developed in your time here."