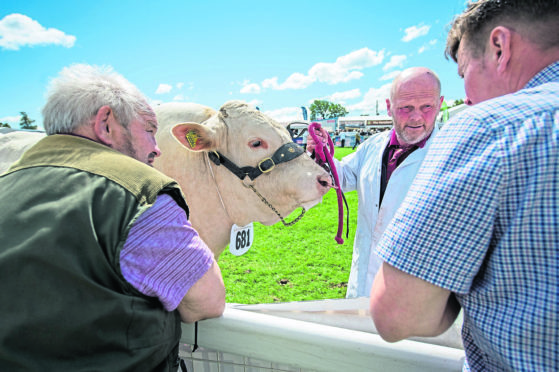 The Royal Highland Show opened yesterday with around 200,000 visitors and 6,000 animals expected at the three-day-long event at Ingliston.
North-east participants and visitors who travelled down to the showcase event were greeted by Scottish sunshine on the opening day.
The massive crowds meant heavy traffic caused delays on the roads, with City Link and Megabus apologising on social media for a series of hold-ups.
Passengers on a flight from Edinburgh to London City airport were reportedly left stranded on the tarmac as the first officer was trapped in the gridlocked roads while thousands descended on the annual show.
Stall-holder Scottish Natural Heritage (SNH) used the gathering at the Highland Showground to announce £100,000 of funding directed towards teenagers and children.
As a result, in Aberdeen, a pilot Junior Ranger scheme will soon launch. SNH will work with local authorities and partners to get young people involved in their local environment.
Aberdeen city councillor John Wheeler said: "We are delighted that SNH is piloting the scheme in Aberdeen as we have an amazing amount of nature in our beautiful city including red squirrels in our woods and dolphins in our harbour area along with our beautiful award-winning parks and green spaces.
"Our countryside rangers already carry out a lot of excellent work with young people, educating them about the abundant and varied flora and fauna on our doorsteps, so we look forward to seeing how the Junior Ranger scheme progresses."
As part of the scheme, 'kit libraries' will also be made available in the city. These easily accessible items, including boots and waterproofs, will remove barriers for young people who are keen to get outdoors but do not have the funds for specialist clothing.
Environment Secretary Roseanna Cunningham said: "It can be easy to take Scotland's wonderful environment for granted, but many young people living in urban areas can often face a number of challenges when it comes to accessing nature.
"This fantastic new scheme will encourage young people to get outside, get active and gain new experiences which can be beneficial for their future job prospects."