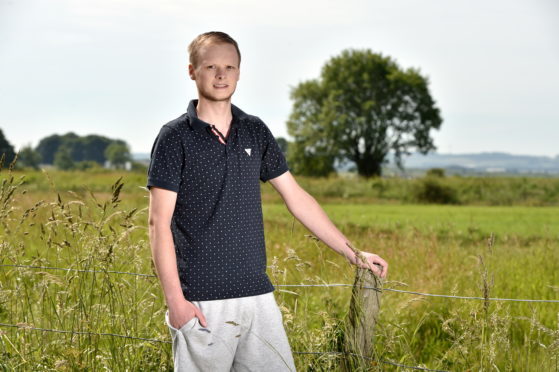 A motorcyclist has praised the charity paramedics who came to his rescue in a helicopter after he sustained horrific injuries in a freak accident in rural Aberdeenshire.
Aidan Doig was riding near Glenshee with pals on a quiet Sunday afternoon when his machine skidded on some sand on the road and veered down a verge.
The motorcycle then crashed into a rock, and the resulting impact sent Mr Doig flying back onto the road and into the path of his friend's oncoming motorcycle.
The 25-year-old, who lives in Fettercairn, suffered a litany of agnoising wounds – including a fractured left hip and torn liver and spleen.
Due to the remote location of the accident, Mr Doig fears that it could have taken up to two hours for him to be transported to hospital in an ambulance.
And he has now thanked Scotland's Charity Air Ambulance (SCAA) for soaring to his aid and flying him to intensive care.
The copter, which is entirely funded by donations, was scrambled from its base near Perth and airlifted Mr Doig to Ninewells Hospital in Dundee – where he spent a month recovering.
Now home and on the mend, the mechanic reflected on the May accident as he backed a campaign to bring a second charity air ambulance to the north-east.
He said: "I have always loved bikes, and was out for a ride with two friends that day.
"There was some sand on the road near Glenshee though, just as I came around a corner, and my bike slipped.
"I didn't have enough space on the road to correct the course of it, so went down a verge and hit a rock.
"That threw me back onto the road, where I was run over by one of my mates who was behind me and had no way of stopping in time.
"I have a very clear memory of how it happened, it was as if it was in slow motion."
As Mr Doig waited for an ambulance, passersby with medical knowledge rushed to his side.
He was helped by off-duty paramedics and a German heamatology doctor even offered a hand.
SCAA paramedics arrived shortly behind the ambulance and decided to fly Mr Doig from the Cairngorms spot to intensive care in Dundee.
The Aberdeenshire native is still on crutches following several operations, and estimates that he will remain off work for two more months.
He added: "I knew about SCAA, but hadn't realised it was entirely run on donations until this happened.
"The road where I was hurt is in the middle of nowhere really, so it could have been a few hours to get to hospital in an ambulance.
"A second charity air ambulance in Aberdeen could mean people in similar accidents are taken to hospital far more quickly, it would be a great asset for the area."