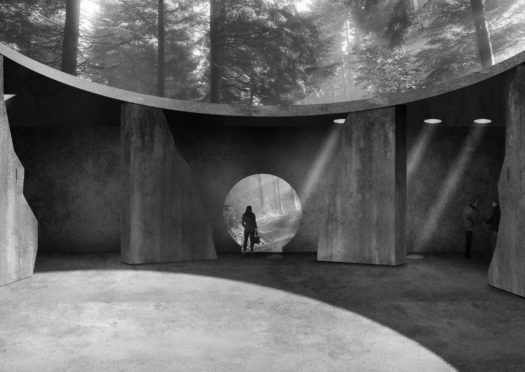 With funeral costs rocketing, an Aberdeen architecture student has designed a chapel for a new form of "water cremation".
The 'resomation' process involves putting a soluble casket in a large water chamber.
Water cremations combine a water and alkali-based solution and the process will take between three and four hours – leaving a pure white bone ash that is returned in an urn.
Sophie Perrott, who is in her final year of studies at Robert Gordon University, has designed a resomation complex and memorial gardens which would be located on Craigingles Hill and woodland in Maryculter.
Inspired by Neolithic stone circles unique to the north-east of Scotland, the form of the proposed development draws on this landform shape, taking mourners on a journey to experience the five stages of grief and encouraging them to feel at inner peace before returning to their daily lives.
The cost of even the most basic Scottish funeral has rocketed by about 77% with the average cost now coming in at about £3,600.
Last month the Scottish Government and council body Cosla have agreed to work together to remove all local authority charges for child burials and cremations.
Miss Perrott, 22, said: "I felt the most appropriate way to explore everyday architecture was to focus on aspects of life and death – occurrences we all come to experience at some point.
"The complex, although filled with sadness, enables people to see the light. The development helps maintain memories of loved ones immersed within the architecture and mostly within the nature of the woodland environment, keeping them alive forever."
Her project will be on display at the Scott Sutherland School of Architecture End of Year Show, which opens on Saturday in the Sir Ian Wood Building and can be viewed from 8am to 10pm weekdays and 10am to 6pm at the weekend.