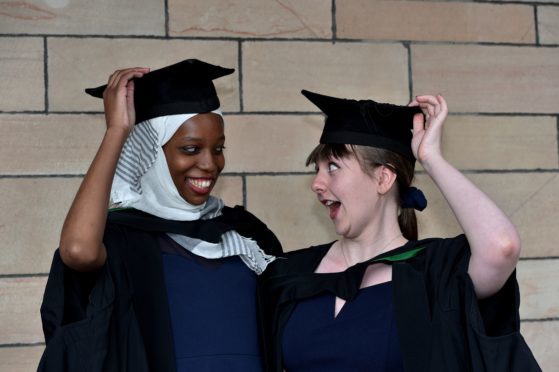 A pair of inseparable pals who first met at college have celebrated graduating from Aberdeen University together.
Halimatu Joji and Catherine Milton, both 22, started studying together at North East Scotland College, where they attended for two years before moving straight into second year at Aberdeen University through a partnership programme between the two institutions.
Aberdeen University Graduations 2018: Birthday girl has double the reasons to celebrate
Miss Milton and Miss Joji both picked up their BSc honours degrees in immunology and pharmacology at the graduation ceremony at Elphinstone Hall yesterday.
And although they are both keen to continue their studies by taking on a master's degree, the pair said they're not sure if they'll both decide on the same course.
Miss Milton, from Aberdeen, said: "We had no idea we would be doing the same course until we got to university.
"It was really great having each other for support, there were a few times we would call each other up crying on the phone asking how to do certain tasks on the course."
Miss Joji, from Westhill, added: "It's been great to have someone to go through the whole experience with.
"We were study buddies all the way through, and we spent a lot of time in the library."
She added: "We're both doing a master's in the coming term, we're both interested in the same one so there is the possibility we could do the same subject again."