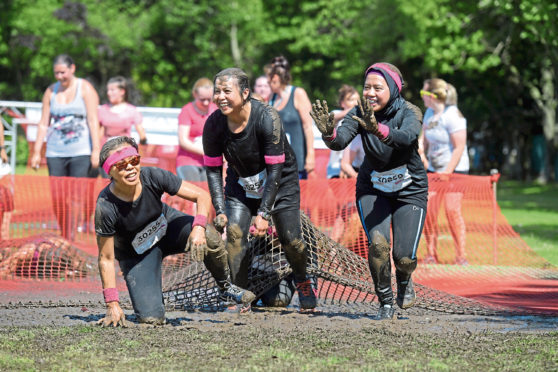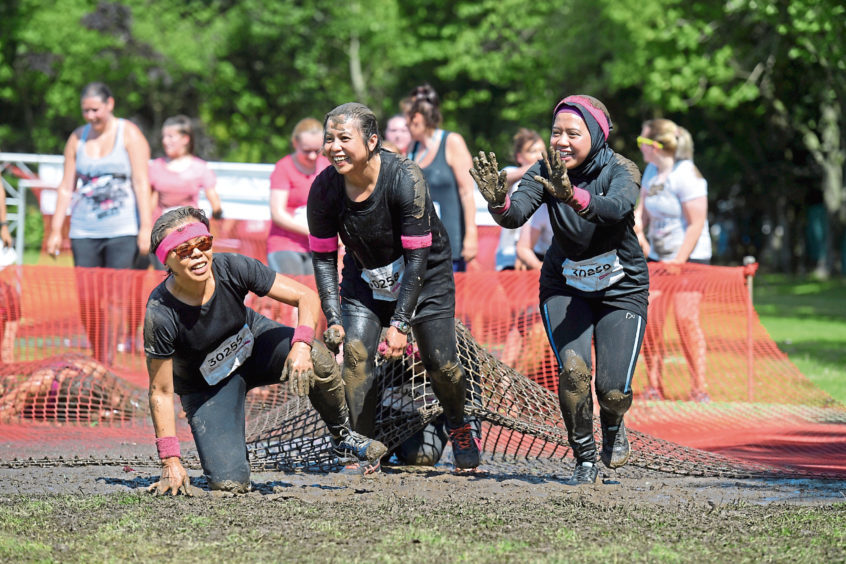 Mud-caked competitors took to Aberdeen's Hazlehead Park yesterday to slide down inflatables, scale ladders and battle through obstacles.
The women were all taking part in the city's first Pretty Muddy event, which was organised by charity Cancer Research UK.
The female-only 5K run around the scenic park's football fields was designed to raise funds for the organisation as well as generate extra attention for its cause.
In order to be as inclusive as possible, the course was designed to suit runners, joggers and walkers, with even the slowest finishing the challenge within an hour.
There was also an atmosphere of camaraderie, with a focus on having fun and allowing people to take their time through the obstacles, rather than competing with others.
Lisa Adams from Cancer Research UK said: "Pretty Muddy has the same fun and inclusive atmosphere of our much-loved 5K and 10K events but with added mud, thrills and spills.
"By limbering up and mucking in, women will be uniting against a disease that affects us all in some way."
Pretty Muddy was created as an offshoot of the popular Race for Life 5K and 10K events, which draw in thousands of runners, walkers and joggers from across the country every year.
It last visited the Granite City earlier this month, when 2,200 pink-clad participants took to King's Links and raised more than £150,000 for the charity.
It is estimated that one in two people in the UK will be diagnosed with cancer at some stage in their lives.
Ms Adams added: "Money raised through Race for Life is helping to drive research to help beat over 200 different types of cancer and that's why every step, every person and every penny raised matters."
Were you a part of the action? Can you spot yourself in our gallery?