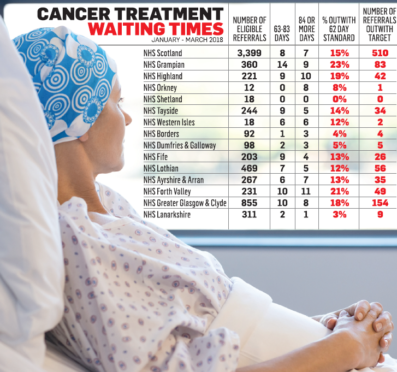 The SNP Government has faced stinging criticism after it emerged cancer patient waiting times have hit record highs.
New ISD statistics show 23% of cancer patients receiving 'urgent referrals' within NHS Grampian had to wait more than two months before receiving treatment.
Within NHS Highlands the figure was almost as bad, at 19%.
The statistics show the Scottish Government missed its target of ensuring 95% of patients started treatment within 62 days between January and March.
Only 85% of patients in Scotland received treatment within that time frame, down from 88.1% last year.
Scottish Conservative shadow health secretary Miles Briggs labelled the figures 'appalling'.
He said: "It's abundantly clear that as soon as someone is referred for treatment with suspicion of cancer they should be starting that process as soon as possible.
"The longer it takes, the less chance they have of survival and there is increased stress placed on individuals and families.
"The SNP government needs to explain why it's let this performance slip so badly and what plans ministers have to turn this poor performance around.
"It's a totally unacceptable situation and SNP ministers' incompetence and mismanagement of our NHS is failing Scottish patients and families."
Speaking as Health Secretary prior to yesterday's cabinet reshuffle, Shona Robison accepted the delays needed to be addressed.
She said: "Boards have given me reassurance that cancer patients continue to be prioritised but performance is simply not good enough in an area of high clinical priority."
Scottish Labour's health spokesman Anas Sarwar called the statistics a 'national scandal' and said: "Shona Robison's legacy at health is one of horrendous mismanagement."
Half of patients referred for cervical cancer in NHS Grampian and 61% of urological cancer referrals to NHS Highland had to wait over two months for treatment.
An NHS Grampian spokesman said: "Unfortunately the initial waiting times for some specialties are longer than we would like and we are working to improve these.
"That said, in some categories, the numbers involved are so small that even minor variations can have a significant effect on our overall performance figure.
"We do however recognise this will be a very anxious time for patients and their relatives and would wish to reassure all patients that they are closely monitored to ensure they receive appropriate treatment as quickly as possible."
An NHS Highland spokesman blamed the figures on theatre pressures in Raigmore Hospital but said the health board had made improvements over the past quarter and aimed to build upon these,
He said: "Urology is a speciality with significant capacity problems which is reflected across the country.
"A number of measures have been put in place to improve performance.
"We have provided an improved early prostate cancer diagnosis service and by August we will have additional sessions of this service in place which will see further improvement."