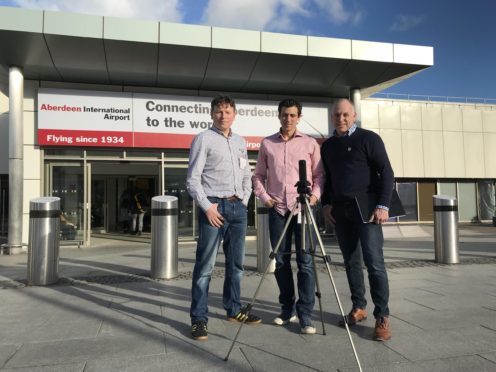 Navigating your way through a bustling airport to catch an important flight can be a stressful situation at the best of times.
But for people with conditions like autism and anxiety, the experience can be so unbearable that it puts them off travelling entirely.
Hower, a new system designed to change that, by familiarising these people with such challenging environments using virtual reality headsets, is soon to be launched.
The Moray-based Friendly Access charity has teamed up with several partners, including Aberdeen International Airport, to research the devices during the past year.
Project leaders yesterday revealed the process was now entering its final stages.
Chief executive of Friendly Access, Glyn Morris, said: "People living with hidden disabilities are often placed at an unfair disadvantage compared to their peers in society.
"We know how certain environments can act as significant barriers and we set about changing that."
The app will create immersive 3D digital versions of real environments in locales such as airports, job centres, classrooms and places of employment.
It gradually increases "stressors", helping people to practice overcoming the challenges presented in such situations.
The team will now work alongside people with hidden disabilities and mental health conditions over several months to test the app.
Director of practice and research at the Scottish Autism charity, Charlene Tait, said the app had the "potential to positively impact the lives of those we support".
Sue Fletcher-Watson, Chancellor Fellow at Edinburgh University, added: "It's exciting to be able to leverage the power of virtual reality technology to help people achieve more autonomy.
"Tools like this one give people a chance to practice new things from the safety of their sofa, before venturing out to try it for real."
AIA's duty manager, Fraser Bain, believes the product will make the venue a "more accessible and inclusive environment".
Students from the Glasgow School of Art's school of simulation and visualisation and design firm Crag 3D have helped bring the Dynamic Interactive Navigation for Familiarisation and Desensitisation scheme to life.
It can be used by people who have a mobile phone compatible with virtual reality, and headsets can be bought for £1.99.
The cost of the project was covered by the Scottish Government, and the European Social Fund's Social Innovation Fund.