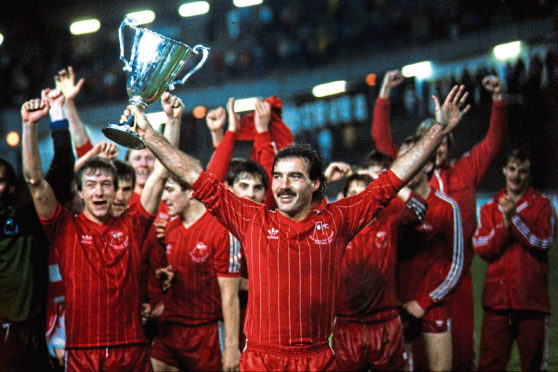 Seasoned Aberdeen FC supporters are being encouraged to unearth interesting pieces of memorabilia for a new museum honouring the Dons' past exploits.
Members of the club's heritage trust group are hopeful that some "hidden gems" could be uncovered and put on display at the team's new £50million stadium once it is built at Kingsford.
Dons diehards and trust members, Jock Gardiner and Bob Bain, have been to thousands of games and are leading the new campaign.
The local businessmen have already raised £7,000 towards the planned heritage centre, and are now on the hunt for some exciting exhibits.
Mr Gardiner said: "Between us, we've been to thousands of matches, both at home and away.
"We both have programmes and mementoes that we've collected over the years that we hold dear – but we know there are probably even bigger fans out there than us, with even bigger collections.
"While we're fundraising for a new museum to celebrate Aberdeen's history, we'd love to see what unique items fans have out there."
Last night, Mr Gardiner and Mr Bain visited the Pittodrie board room to inspect the club's own collection of heirlooms.
And in order to raise more money towards the club museum, they are preparing to travel 500 miles across the north and north-east on Monday.
Starting off at 5am, the pair aim to visit the grounds of all 18 Highland League clubs within 18 hours, from Harmsworth Park in Wick to Cove Rangers' new Balmoral Stadium.
Mr Bain added it was important to celebrate Aberdeen FC's links with teams across the region.
He said: "The club has so many connections to the Highland League that this journey seemed like the perfect opportunity to celebrate that shared history, while raising funds for the new museum."
Aberdeen FC's heritage trust is independent of the club and run by volunteers.
People can donate towards the museum at www.afcheritage.org.
Those who don't wish to part with any treasured souvenirs have been asked to get involved by tweeting photos of them, using the hashtag #AFC18in18